Be Inspired by RES Supply Customers.
Learn from their project photos and research the products they used. Please check back often for new projects.
Eric N 27.36kW Grid-Tied Roof and Ground Mount
Project Description
LONGi Solar LR6-72PH-365M Solar Panels, SMA Sunny Boy SB6.0-1SP-US-41 and SB7.7-1SP-US-41 Inverters, IronRidge XR-100 Roof Mount Hardware and SnapNrack Series 200 Ground Mount Hardware.
Customer Comments
"Doing business with RES worked out perfect for this job. A couple of phone calls with Todd and a line drawing was what I needed to do my first (hope to do more) solar installation. I really recommend to those who want to do their own, (or even hire a contractor) to get RES to size a system first thing. And purchase the level of plans that they are comfortable with. I got the line drawing which really put things together for me, and of course a complete material list that turned out perfect. Deliveries came in a timely fashion and soon had most of what I needed for completion. Todd did all the technical work making my job easy. We had the rails installed on the garage in a day and the next day installed all the roof panels. It took longer for the ground array dealing with the site conditions. Overall the job went smoothly and has been up and running. My electric bill has since been gone."
Project Photos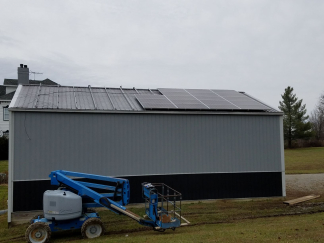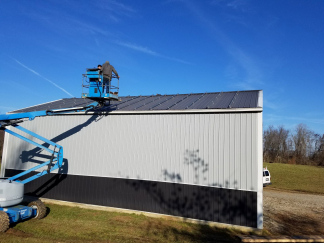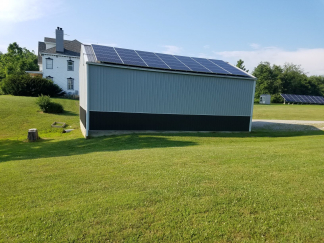 Read more..
Brent S 16.74kW Grid-Tied Ground Mount
Project Description
LONGi Solar LR6-60HPH-310M Solar Panels, Enphase IQ7-60-2-US IQ Microinverters, Enphase Q-BA-3-1P-60 Aggregators, Enphase X-IQ-AM1-240-3 IQ AC Combiner 3, Enphase CT-200-SPLIT Consumption Monitoring CT, IronRidge XR-1000 Ground Mount System, 2" Gatorshield Pipe.
Customer Comments
"After receiving several quotes for this project and doing some research on my own for what it would cost me to have it installed, I quickly realized I would be charged a $40k premium in components/labor for this project over doing it myself. Considering myself to be an intermediate DIY'er and after some research for a few months (watching every video and reading any pertinent articles for microinverters/ground mounts) I felt confident on tackling this project."
"For me it was a no brainer to go with Enphase for this project due to the ease of install (It truly is plug and play), Safety with AC only, and ability to monitor all aspects of the array with the Enphase apps. Not to mention if one inverter goes down, I would know right away and only lose 1.85% of my production and not 100% until it was replaced. Array was broken in to 6 strings of 9 panels with 3 strings to each aggregator. I then had a 100' run trenched to the house."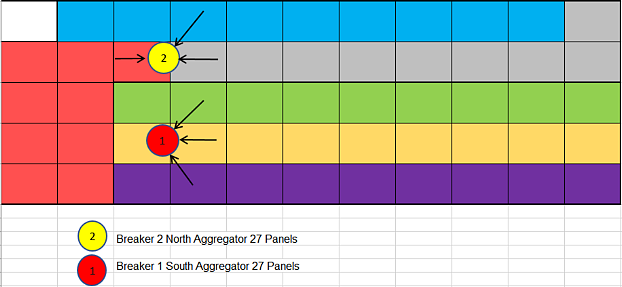 "I would also highly recommend IronRidge and their design assistant to create your ground mount array layout. I could model different panels and configurations to find the right balance of height/width that I wanted for my site."
"Probably the most difficult portion of this project was finding a suitable electrician to partner with that would oversee and sign off for my work. I was lucky to finally find one (took 6 months prior to starting the project to find) and his project oversight provided not only satisfied my local County inspector but also for Xcel Energy. The permitting process was made easier by RES Supplies "Permit Package for Grid-Tied PV System" which was invaluable in getting through these processes in a quick and efficient manner. Neither jurisdiction needed more information than provided in this RES package. You must have patience for this part of the install as maneuvering through this application process as it was 50% of my entire time spent to complete the whole project!! Each jurisdiction has different requirements for labeling so take the time to ensure you have all the necessary Solar labels needed when you are done so you do not fail an inspection for something so trivial. I was able to size up my array by 3KW by purchasing an electric car and quickly found a used 2014 Leaf prior to putting in my utility application."
"A potential pitfall avoided was that I originally sourced my Galvanize pipe from a local supplier and when it arrived, I double checked the specs written on the pipe and compared to the submitted plans and realized the grade of pipe carried by any big box (or even pipe supply house) was not the correct grade of Galvanized pipe and they could not even source a grade "B" pipe as specified by IronRidge's engineering so I returned it and ordered the Gatorshield pipe out of Florida which was about $500 more expensive for the whole project but would satisfy engineering requirements if there was ever a big wind/tornado."
"I really enjoyed this project and would do another if I could! My county inspector had low expectations and was wary that someone would try building an array this large as a DIY project and gave me kudos that my work was as good or better that the large companies that do this day in a day out."
"Allowing me to save the most money on the components, RES Supply was AMAZING to work with! I cannot stress this enough!! Any items delivered that were damaged/missing, they were so quick to rectify with the replacement part arriving typically overnight. Saving even more money during construction, my son and I dug all 22- 12" x 54" holes by hand and with my wife's help, mixed the concrete in a little cement mixer from Amazon to boot! While appearing daunting, it only took 2 days to mix/pour all 22 holes-190 bags of concrete in all!"
"The project has far, far exceeded my expectations for production! I started the project in May and was approved to turn it on July 7th while only working weekends to accomplish the project. To date, I have produced 12.7MWh during a crazy wildfire season where production was very limited by thick smoke for 2 months while Colorado burned. Annual production even with these issues will still beat the PVWatts annual estimate by at least 1KW. Moving to the Xcel "Time of Use" plan has allowed me to leverage my production at a higher energy rate and use the energy banked when rates are lower for charging an EV/Laundry etc. This effectively will give you 10% more energy to use as you will generate and bank at a higher rate and spend at a lower rate. This project will pay for itself in about 7 years with the current tax incentives."
"This project would have been much more difficult and expensive if I had not partnered with RES Supply. Not only are their prices and shipping cost an industry best, but they also ALWAYS answered the phone when I had a questions or issues during the project. For example, Todd was able to identify my undersized current main panel and offer upgrade choices when a line side tap would not be sufficient for the size of array I was installing. Jennifer was amazing and had a lot of patience with me as all the deliveries arrived and figuring out any shortages from suppliers or sorting through shipping damage and rectified those issues super-fast. She went over and above until she was sure everything received was correct as ordered."
Project Photos
Project Components
Read more..
Gabor L 11.78kW Grid-Tied Roof Mount
Project Description
Mission Solar MSE60A310 Solar Panels, SolarEdge SE7600H-US Inverter, P320-5NC4ARS Power Optimizers, IronRidge XR-100 Roof Mount Hardware.
Customer Comments
"Ordering and working with RESSupply for my 38 310w panel system was an awesome experience. I went with a SolarEdge inverter that allows 155% oversizing on the DC side. So the 7.6kWAC inverter has the potential of 11.8kW of DC input. Given the orientation of my roof this design has worked out marvelously and allowed me to be 100% self sufficient even into the short days of December. I can report back once December is done. The materials from RESSupply arrived packaged well and on schedule. Installation was a bit complicated by the two story roof but a lower roof provided access to the upper story and made staging the panel's 1/2 way up possible. This was my second install but first on a composition shingle roof and overall it was straight forward and without issue."
"Since I had two Tesla Powerwalls installed at the same time there was a bit of "revision" work that had to go into my permit application in order to get the final state of the system before I could pass inspection. I did all the changes myself as well as the permitting and all the Solar PV wiring. Nevada County handled everything via their online portal which made it very east."
"The system has been amazing and provides us with continuous power shielding us from PGE blackouts this fall."
"Coupling Solar with Battery Storage is the way to go and I would encourage every Solar install to consider adding battery storage. Given the net metering changes and the reduced value of any excess kWhrs produced, using them during peak times and all night is a game changer."
Project Photos
Read more..
Daniel M 9.57kW Grid-Tied Roof Mount
Project Description
Project Photos
Read more..
Chris O 11.22kW Grid-Tied Roof Mount
Project Description
Canadian Solar CS1H-330MS-Black Solar Panels, SolarEdge SE11400H-US HD-Wave Inverter with P340 Power Optimizers, ProSolar R-124D RoofTrac Mounting System.
Customer Comments
"This is a 34 panel system with an 11.4KW SolarEdge inverter. There are two out of the 34 panels that are LG vs. Canadian Solar panels, but those were purchased from you as well like five years ago. I had them, so I figured I should just use them."
"With the AZ heat in the summer, production is lower and in the Winter it is lower due to sun angle. So I bought 20 additional panels to increase production throughout the day. When I start to install the expansion in the next couple months, I will take pictures during and after the install to send to you."
Project Photos
Read more..
Scott T 23.1kW Grid-Tied Roof Mount
Project Description
Project Photos
Read more..
David L 9.6kW Grid-Tied Roof Mount
Project Description
Project Photos
Read more..
Robert H 11.55kW Grid-Tied Roof Mount
Project Description
Canadian Solar CS3U-350P KuMax Solar Panels, Enphase IQ7PLUS-72-2-US IQ Microinverters, Enphase X-IQ-AM1-240-3 IQ AC Combiner 3, IronRidge FF2-01-M1 FlashFeet2 with BHW-TB-02-A1 T-Bolt Bonding Hardware, XR-100 Rails, XR-100-CAP End Caps, XR-100-SPLC-M1 Bonded Splices, XR-LUG-03-A1 Grounding Lugs, BHW-MI-01-A1 Microinverter Mounting Hardware, 29-4000-077 Wire Clips, UFO-CL-01-A1 Universal Fastening Objects and UFO-STP-35MM Stopper Sleeves.
Customer Comments
"I passed inspection and got my final approval this morning!!!!!!!  I just want to give a HUGE Thank You for your endless help during this process. There were a lot of bumps in the road, but everything was successfully managed with your help. You and RES made a daunting task for a DIY'er possible. Thanks again and I will recommend you and your company to anyone that will listen!!"
Project Photos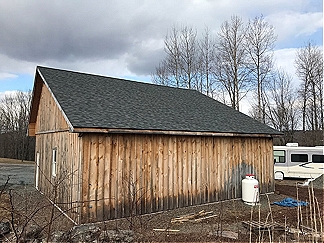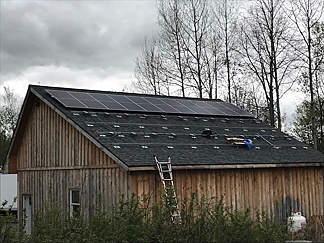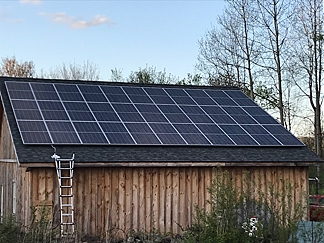 Project Components
Read more..
Bruce W 17.88kW Grid-Tied Roof Mount
Project Description
Project Photos
Read more..
Mardell C 12.375kW Grid-Tied Roof Mount
Project Description
Canadian Solar CS6K-275M Quartech Solar Panels, SolarEdge SE11400A-US-U Inverter with P300-5NA4ARS Power Optimizers, EcoFasten Solar L102-3 Compression Mounting Brackets, IronRidge XR-100-204A Rails with RS-GD-MCL-225 Grounding Mid Clamps and 29-7000-157 End Clamps, MidNite Solar MNPV12 Combiner Box.
Customer Comments
"The installation is on a external building that is about 200 ft from our house. It is a pole frame building with a metal roof and siding. The metal roof made it a little challenging to find the appropriate brackets to mount the railing and racking System. The wiring was all brought into the building from the panels through waterproof connections and conduit into the ridge roof vent at the top of the rows of panels. There are three chains of panels, each with 15 panels. Those three runs are brought into the combiner box to produce a single DC output which is fed into the Inverter. I ran heavy direct burial (4/0-4/0-2/0) from the building to my house. This size cable was not needed for the current being produced, but I was trying to reduce the voltage drop across the 200 feet, so It would remain in spec for the Net Meter. System was turned on with the Net Meter in place on Aug 26, 2016. Since then the System has generated 29.7MW. Peak day so far was 98KW on Apr 29 2017, Peak month so far was May 2017 at 2.54MW. I probably oversized the system too much, as I have a 5MW credit from the power company for the last 12 months."
Project Photos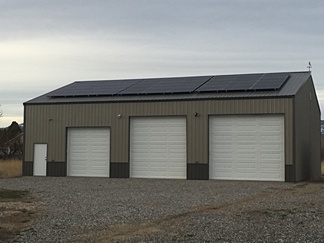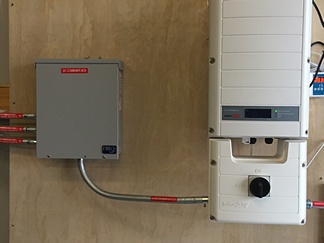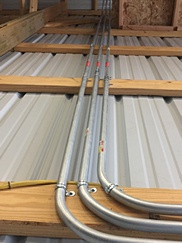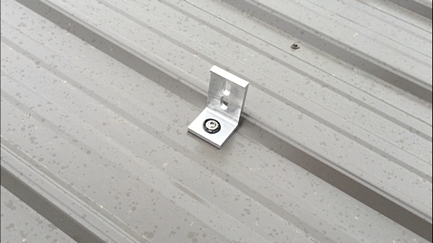 Project Components
Qty
Item #
Description
45
1120-161
 
Canadian Solar CS6K-275M-PT Quartech Panel Pallet
1
1430-187
SolarEdge SE11400A-US-U Inverter
45
1460-018
 
Solaredge P300-5NA4ARS Power Optimizer
18
1340-778
IronRidge XR-100-204A Rail
18
1340-675
 
IronRidge RS-GD-MCL-225 Grounding Mid Clamp
9
1340-008
 
IronRidge 29-7000-157 End Clamp
9
2040-026
 
IronRidge RS-GDLG-002 Grounding Lug
2
1340-787
IronRidge XR-100-CAP End Cap
12
1340-209
IronRidge 29-4000-077 Wire Clip
3
2010-016
Shoals Technologies STG.HRJ.10MC4.DJ.25 25' PV Wire
4
2010-014
Shoals Technologies STG.HRJ.10MC4.DJ.100 100' PV Wire
6
1950-037
Bussmann PV-20A10F Midget Fuse
6
1950-049
Bussmann CHPV1U Touch-Safe Fuse Holder
23
1340-220
IronRidge 29-5003-005 Enphase or SolarEdge Mounting Kit


** Clearance Item - All Sales Final **

1
1920-006
MidNite Solar MNPV12 Combiner Box
Read more..