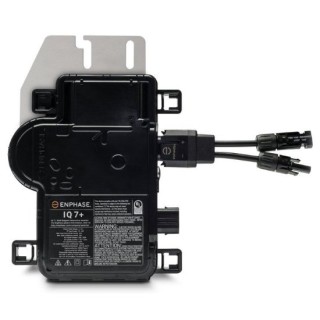 Enphase IQ7PLUS-72-2-US IQ Microinverter
295W, 240/208VAC, 60Hz, 16-60VDC, For 60 and 72-Cell Modules Between 235W-440W+, MC4 DC Connectors, Female AC Connector, Smart-Grid Ready
---
Item # 1430-009
---
Enphase IQ7PLUS-72-2-US IQ Microinverter, 295W, 240/208VAC, 60Hz, 16-60VDC, For 60 and 72-Cell Modules Between 235W-440W+, MC4 DC Connectors, Female AC Connector, Smart-Grid Ready
The 7th Generation Product Supporting 60 and 72-Cell, High Power Modules
Enphase's seventh-generation microinverters are powered by a unique software-defined architecture, offering an efficient design with a single hardware SKU worldwide. The IQ 7 Micro series produces 4% more power, is 19% lighter and 17% smaller than the IQ 6 series. The IQ 7 Micro Series continues to offer the same ease of installation with revolutionary 2-wire cabling. It also leverages semiconductor integration for higher reliability and better economies of scale. The high-powered smart grid-ready Enphase IQ7PLUS-72-2-US IQ Microinverter™ dramatically simplifies the installation process while achieving the highest system efficiency. Because this microinverter is part of the Enphase IQ System, it will integrate seamlessly with the Enphase IQ Envoy™, Enphase Q Aggregator™, Enphase IQ Battery™, and the Enphase Enlighten™ monitoring and analysis software. IQ Series Microinverters extend the reliability standards set forth by previous generations and undergo over a million hours of power-on testing, enabling Enphase to provide an industry-leading warranty of up to 25 years.
The Enphase Microinverter maximizes energy production by using a sophisticated Maximum Power Point Tracking (MPPT) algorithm. Each Enphase Microinverter individually connects to one PV module in your array. This configuration enables an individual MPPT to control each PV module, insuring that maximum power available from each PV module is exported to the utility grid regardless of the performance of the other PV modules in the array. While an individual PV module in the array may be affected by shading, soiling, orientation or PV module mismatch, each Enphase IQ7PLUS-72-2-US IQ Microinverter™ insures top performance for its associated PV module.
Features
Easy to Install
Lightweight and simple
Built-in rapid shutdown (NEC 2014 & 2017)
Lighter two-wire cabling for faster installation
Productive and Reliable
Supports high powered 60-cell modules
Optimized for high powered modules ranging between 235-440+W
Max Power Output: 295VA
97.5% CEC efficiency
UL Listed
Class II double-insulated enclosure
Smart Grid Ready
Configurable for variable grid profiles like Hawaiian Electric Company (HECO) Rule 14H, California Rule 21, and others
Complies with advanced gird support, voltage and frequency ride-through requirements
Remotely updates to respond to changing grid requirements
NOTE: Enphase IQ Envoy, IQ Series Micros do not communicate with, and should not be used with, previous generation Enphase Microinverters, AC Batteries, and Envoys.
The Enphase IQ System
IQ7+ Microinverter Installation
The specifications document is loading.
Generally all of our products are in stock and ready to ship within 2 business days.
If an item you ordered is out of stock, we will contact you within 1 business day with an expected ship date. You will then have the option to accept the new ship date or cancel your order.
Either way, we guarantee your card will never be charged until your order ships.