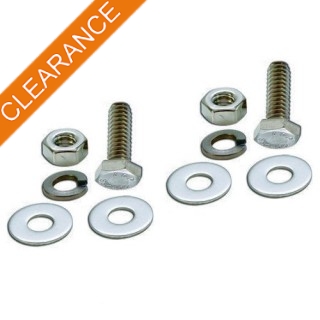 IronRidge 29-5003-005 Enphase or SolarEdge Mounting Kit
for Microinverters or Optimizers, Qty. 2 Hex Bolts and Associated Hardware
---
Item #

1340-220
---
While Quantities Last - All Sales Final
IronRidge 29-5003-005 Enphase or SolarEdge Mounting Kit, for Microinverters or Optimizers, Qty. 2 Hex Bolts and Associated Hardware
Contains hardware to mount either two Enphase microinverters or two SolarEdge optimizers. Each kit includes two 1/4" x 3/4" hex bolts and associated hardware.
Our Clearance Item inventory is sold while quantities last. Please contact us before order placement if you are concerned about item availability.
If an item you ordered is sold out, we will contact you within 1 business day with a possible alternate. Because the replacement item may be higher priced, you will have the option to accept the alternate, remove the alternate, or cancel your order entirely.
Either way, we guarantee your card will never be charged until your order ships.
All Clearance Item sales are final and cannot be returned.