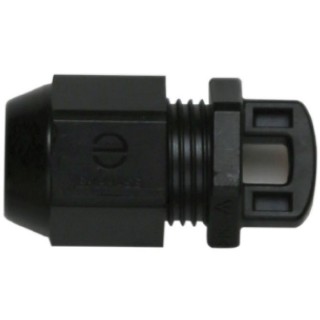 Enphase Q-TERM-10 Terminator Cap
For Unused Q-Cable Ends, Center Feed Requires 2 Per Branch, IQ Series, Qty. 1
---
Item # 1410-171
---
Enphase Q-TERM-10 Terminator Cap, For Unused Q-Cable Ends, Center Feed Requires 2 Per Branch, IQ Series, Qty. 1
The cut cable ends of the Q-Cable must be sealed with a watertight Q-TERM-10 Terminator Cap. You will typically need two terminators per branch circuit. The terminator is intended for one-time use only. If you open the terminator again following the installation, this will destroy the latching mechanism, meaning that the unit cannot be used again. Damage to the latching mechanism cannot be seen with the naked eye. Label the opened terminator and dispose of it immediately to ensure that it cannot be reused accidentally.
NOTE:
Never unscrew the hex nut. This will destroy the locking feature, and you must replace the terminator.
Use the terminator cap assembly only when all parts are present and intact.
Fit the terminator cap using only the prescribed tools.
Risk of Electrical Shock. Never open, remove or replace the terminator while it is connected to the power supply.
The Enphase IQ System
IQ7 Series Microinverter Installation
The specifications document is loading.
Generally all of our products are in stock and ready to ship within 2 business days.
If an item you ordered is out of stock, we will contact you within 1 business day with an expected ship date. You will then have the option to accept the new ship date or cancel your order.
Either way, we guarantee your card will never be charged until your order ships.