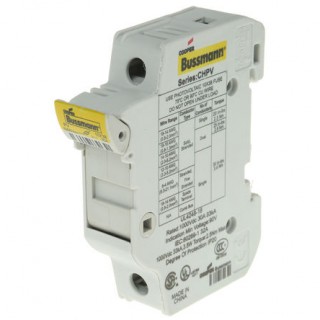 Bussmann CHPV1U Touch-Safe Fuse Holder
DIN Mount for PV-(Amp Rating) Midget Fuses, 30A, 1000VDC
---
Item # 1950-049
---
Bussmann CHPV1U Touch-Safe Fuse Holder, DIN Mount for PV-(Amp Rating) Midget Fuses, 30A, 1000VDC
Compact Modular Fuse Holders with the Industry's Best Ratings
Features
High SCCR rated, UL Listed Class CC holder with indicator option for 600Vac/dc and 48Vdc.
UL Recognized midget and 10 x 38 holders with factory assembled neutral pole option.
Agency ratings up to 1000Vdc for use with solar PV fuses.
Available remote PLC indication with the CH-PLC module.
Rated for use with 75ºC or 90ºC wire, fine stranded wire, spade terminals and comb-bus bars. Use any higher temperature rated wire with appropriate derating.
Complete range of UL Listed and high SCCR rated 1-phase and 3-phase finger-safe comb-bus bars and power feed lugs.
Benefits
Best Ratings - With a wide wire range and industry leading ratings - up to 32A, 1000V, 200kA SCCR – the new CH Series provides worldwide acceptance and easy specification – including the latest PV fuse holder standard (UL 4248-18)
Smallest Footprint - The CH Series conserves valuable panel space. Up to 10 percent smaller than the competition.
Ease of Use - Easy to identify and specify, product color coding shows PV, IEC and UL holders at a glance. Optional factory-installed neutral pole and open fuse indication speeds troubleshooting.
Accessories Provide Greater Flexibility - Save time and money by reducing wiring and components. Advanced comb-bus bar and PLC communication accessories expand design possibilities while delivering superior performance.
The specifications document is loading.
Generally all of our products are in stock and ready to ship within 2 business days.
If an item you ordered is out of stock, we will contact you within 1 business day with an expected ship date. You will then have the option to accept the new ship date or cancel your order.
Either way, we guarantee your card will never be charged until your order ships.