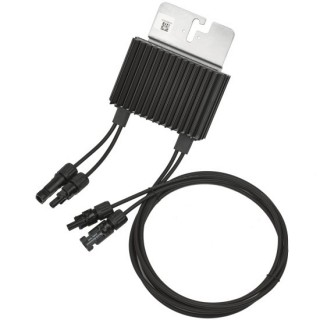 SolarEdge P505 Power Optimizer
505W, Add-On Box for (1) 72 or 96 Cell Higher Current Module, 12.5-87V, 14A, MC4 Connectors In and Out, 45" UL 1000VDC
---
Item #

1460-014
---
SolarEdge P505 Power Optimizer, 505W, Add-On Box for (1) 72 or 96 Cell Higher Current Module, 12.5-87V, 14A, MC4 Connectors In and Out, 45" UL 1000VDC
Introducing the Highest Wattage Residential Power Optimizer Ever
In addition to the benefits of the existing power optimizers, such as added energy, flexible design, module-level monitoring and safety, the P505 is optimized for the next generation of high-power modules, improved inventory management, faster installation, and compliance with the VDE-AR-E 2100-712 Fire Safety Standard. The P505 is SolarEdge's highest wattage residential power optimizer to date and not only increases the support for high wattage modules on residential installations, but also enables shorter strings to support smaller installations. It is designed to support bi-facial and other high current 96-cell modules and features a new bracket of design to improve installation tolerances offering support for shorter strings:
6 modules (vs 8) for single phase 240VAC
8 modules (vs 10) on three phase inverters for the 208V grid
14 modules (vs 18) with three phase inverters for the 277/480V grid
NOTE: It is not allowed to mix P404/P405/P505 with P300/P370/P500/P600/P700/P800 in one string.
The SolarEdge power optimizer is connected to each module, replacing the traditional solar junction box. Each power optimizer maximizes energy output from each and every module through constant tracking of the Maximum Power Point individually, per module. Furthermore, the power optimizers monitor the performance of each module and communicate performance data to the SolarEdge monitoring portal for enhanced, cost-effective maintenance. When working with SolarEdge inverters, power optimizers automatically maintain a fixed string voltage, allowing optimal efficiency of the SolarEdge inverter and giving installers greater flexibility to design optimal PV systems.
The independent optimization (IndOP™) technology allows power optimizers to be installed without the need for additional interface hardware and to operate directly with any inverter. Each power optimizer is equipped with the unique SafeDC™ feature which automatically shuts down modules' voltage whenever inverter or grid power are shutdown.
Features
Per-module Maximum Power Point Tracking (MPPT)
Up to 25% more energy
Superior efficiency (99.5% peak efficiency, 98.8% weighted efficiency)
Mitigates all types of modules mismatch-loss, from manufacturing tolerance to partial shading
Flexible system design for maximum space utilization
Advanced, real-time performance measurement with module-level monitoring
Automatic module DC voltage shut-down for installer and firefighter safety
Fast installation with a single bolt
Optimized for Present and Future PV Module Ratings
The 5-Series power optimizers provide the superior matching between power optimizer and PV module ratings (power, voltage and current):
P300 power optimizers match 60-cell crystalline PV modules
P320 power optimizers match high-power 60-cell crystalline PV modules
P370 power optimizers match higher-power 60 and 72-cell crystalline PV modules
P400 power optimizers match 72-cell and 96-cell crystalline PV modules
P405 power optimizers match high-voltage thin-film PV modules for residential installations
P505 power optimizers match higher voltage, 96-cell crystalline PV modules for residential installations
P600 power optimizers match 60-cell crystalline PV modules, two modules connected in series for commercial installations
P700 power optimizers match 72-cell crystalline PV modules, two modules connected in series for commercial installations
SolarEdge Inverter and Optimizer Technology Overview
SolarEdge PV Monitoring Portal
SolarEdge Rapid Shutdown
SolarEdge Installation
The specifications document is loading.
Generally all of our products are in stock and ready to ship within 2 business days.
If an item you ordered is out of stock, we will contact you within 1 business day with an expected ship date. You will then have the option to accept the new ship date or cancel your order.
Either way, we guarantee your card will never be charged until your order ships.