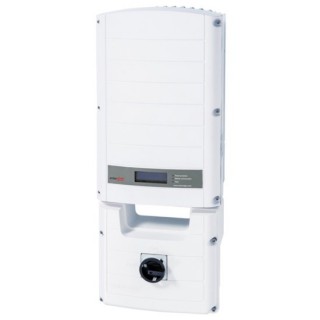 SolarEdge SE3800A-USS2RNCB2 StorEdge Inverter
5 Year Cell Plan, 3800W, 240VAC, 60Hz, DC Disconnect, 2 Unfused Inputs, Ungrounded, RS485 and Ethernet, RSD, AFCI, UL1741-SA
---
Item #

1420-012
---
SolarEdge SE3800A-USS2RNCB2 StorEdge Inverter, 5 Year Cell Plan, 3800W, 240VAC, 60Hz, DC Disconnect, 2 Unfused Inputs, Ungrounded, RS485 and Ethernet, RSD, AFCI, UL1741-SA
The newest StorEdge Inverter supports higher power output with the LG RESU10H battery​ and has a 5 year Cellular Plan
SolarEdge's StorEdge DC coupled storage solution automatically provides homeowners with backup power in case of grid interruption allowing owners to maximize self-consumption for maximum energy independence. Unused PV power is stored in a battery (the LG Chem RESU) and used during a power outage or when PV production is insufficient. When there is a power outage, a combination of PV and battery is used to power important loads such as the refrigerator, TV, lights and AC outlets, day or night. The solution is based on a single inverter for PV, storage and backup power.
The SE3800A-USS2RNCB2 StorEdge single-phase inverter with integrated 5 year GSM (requires an optimizer for each module) and is designed for use with battery storage solutions. Features High Power functionality and is suitable for both Back Up applications and Smart Energy Management applications when paired with the SolarEdge Auto-Transformer*** and the SolarEdge Electricity meter*** respectively (or together for dual function). Capable of allowing draw from PV and storage solution at the same time. Pair with up to 2 LG Chem RESU10H Batteries per inverter. Also includes rapid shutdown, LCD display, built-in module-level monitoring via internet connection, Ethernet or wireless. NEMA 3R enclosure.
Benefits
More Energy
​DC-coupled architecture stores PV power directly to the battery without AC conversion losses
PV power is stored directly in the battery
No additional conversions from AC to DC and back to AC
Module-level power optimization for higher energy yield
Simple Design & Installation
Single inverter for PV, battery storage, grid-tied and backup applications
Outdoor installation allows flexibility in battery location
No special wires are required - utilizes the same PV cables
Enhanced Safety
No high voltage during installation, maintenance or firefighting
PV array and battery voltage designed to reduce to a safe voltage upon AC shut down, when not in backup mode
Integrated Rapid Shutdown functionality; low current during operation
Full Visibility
Monitor battery status, PV production, remaining backup power and self-consumption data
Smarter energy consumption to reduce electricity bill
Monitor battery energy levels and remaining hours of backup power
Remote access to inverter/battery software
Features
Specifically Designed to Work with Power Optimizers
Smart Energy Management - export control, time-of-use shifting, maximized self-consumption, demand response and peak shaving capabilities
Backup power - automatically provides power to backed-up loads in the event of grid interruption
All-in-one solution uses a single DC optimized phase inverter to manage and monitor both PV generation and energy storage
Compatible with the LG Chem RESU10H-R Battery
Integrated 5 year GSM Cellular Plan
UL1741-SA Certification
NOTE: When used for export control, time-of-use shifting, self-consumption, or peak shaving capabilities, the SE-MTR240-0-000-S2 Electricity Meter is needed along with (2) SE-ACT-0750-200 CT's installed on the house AC lines. For backup power capability, the SEAUTO-TX-5000 Auto-Transformer must be installed as well as a backup loads panel for the critical loads.

*** SE-MTR240-0-000-S2 Electricity Meter, SE-ACT-0750-200 CT's and SEAUTO-TX-5000 Auto-Transformer sold separately.
How to Install StorEdge
StorEdge Components
The specifications document is loading.
Generally all of our products are in stock and ready to ship within 2 business days.
If an item you ordered is out of stock, we will contact you within 1 business day with an expected ship date. You will then have the option to accept the new ship date or cancel your order.
Either way, we guarantee your card will never be charged until your order ships.