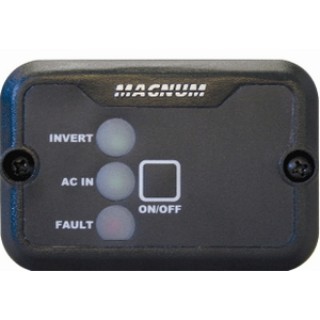 Magnum Energy MM-R25 3 LED Remote
With 25' Cable, Use with MM612 Only
---
Item # 1410-020
---
Magnum Energy MM-R25 3 LED Remote, With 25' Cable, Use with MM612 Only
The MM-R is one of two remote controls available for use with the MM/MM-AE Series inverter. The other is the MM-RC. The appropriate remote to use depends on whether your inverter includes the battery charger feature. For the MM Series inverter that does not have the battery charger (such as the MM612 models which requires serial number L1-201 or higher to work with the MM-R), the MM-R is the recommended remote. The MM-R remote control is designed to be simple to install and use. It allows easy on/off control and provides a quick indication of the inverter operation.
This remote has an ON/OFF switch that performs the same function as the ON/OFF switch on the front of the MM Series inverter. This remote control also has LED indicators to show the current operating mode of the inverter and to help troubleshoot you system if you have a fault.
Features
LEDs: Three - for inverter status
Mounting: Includes bezel for suface mount or flush mount
Included with the Remote: 25' phone cable
Works With
Generally all of our products are in stock and ready to ship within 2 business days.
If an item you ordered is out of stock, we will contact you within 1 business day with an expected ship date. You will then have the option to accept the new ship date or cancel your order.
Either way, we guarantee your card will never be charged until your order ships.