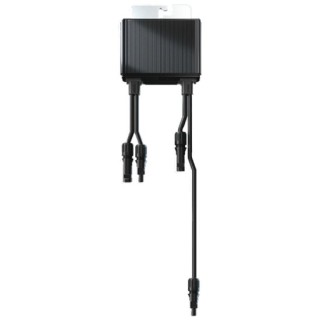 SolarEdge S440 Power Optimizer
440W, Add-On Box for (1) Module, 8-60V, 14.5A, MC4 Connector 4" In and 4" Negative Out Plus 90" Positive Out, 1000VDC
---
Item # 1460-018
---
SolarEdge S440 Power Optimizer, 440W, Add-On Box for (1) Module, 8-60V, 14.5A, MC4 Connector 4" In and 4" Negative Out Plus 90" Positive Out, 1000VDC
SolarEdge's Most Advanced Residential Power Optimizer Ever
The newest generation of SolarEdge Power Optimizers, the S-Series does more to protect people and property than ever before, while speeding up installation times and SolarEdge project design. The S440 Power Optimizer is a DC/DC converter that connects to each solar module in a PV system, turning them into smart modules. The SolarEdge S440 Power Optimizer has been future-proofed to meet evolving module requirements, and is also compatible with higher current modules such as the M10 and G12. Just like its predecessors, S440 Power Optimizer boosts PV system production with MPP Tracking per module and enable pinpointed visibility with module-level performance monitoring. By constantly tracking the Maximum Power Point (MPP) of each individual solar module, Power Optimizers can increase system energy production, potentially growing revenues and shortening system ROI. By attaching a Power Optimizer to each solar module, installers, EPCs and O&M personnel can easily monitor system performance and track, pinpoint, and resolve issues at any point along a string with surgical precision. The independent optimization (IndOP™) technology allows power optimizers to be installed without the need for additional interface hardware and to operate directly with any inverter. Each power optimizer is equipped with the unique SafeDC™ feature which automatically shuts down modules' voltage whenever inverter or grid power are shutdown.
NOTE: It is not allowed to mix S-Series and P-Series Power Optimizers in new installations.
Smart: Real-Time Alerts for Easier O&M
The S-Series Power Optimizer offers module-level visibility of site performance and production, helping maximize system uptime and your O&M savings. This also extends to the new SolarEdge Sense Connect feature: Installers and homeowners are automatically alerted if connector overheating is detected and if inverter shutdown was initiated and module-level alerts pinpoint the location of the thermal event, so any faulty connector can be immediately identified.
Simple: Improved Cable Layout for Faster Installations
By simplifying the Power Optimizer cable layout, S-Series installations go faster. With three short cables and just one long one, connecters now "float" close to the S-Series unit itself. This also helps reduce exposure to potential isolation faults, further reducing your time onsite and increasing system safety. We've also significantly streamlined our Power Optimizer model range making project design, ordering and inventory management much easier.
Safe: More Protection with SolarEdge Sense Connect
The S-Series introduces SolarEdge Sense Connect*, an industry-first feature providing an even higher level of protection for people and property. We've extended PV system safety to the connector level by preventing electric arcs, rather than just detecting them at the string level. Sense Connect continuously monitors S-Series Power Optimizer connectors for overheating due to installation issues or wear and tear. If abnormal temperature is detected, an event is triggered and the inverter is shut down, if needed, an alert is automatically sent to the installer, including the issue location enabling fast identification of the faulty connector (location is visible in the Monitoring Platform's Physical Layout) And of course, SolarEdge SafeDC™, which automatically shuts down high DC voltage during inverter or grid shutdown, is still built-in to the S-Series models as before.
Features
Specifically designed to work with SolarEdge residential inverters
Per-module Maximum Power Point Tracking (MPPT) and automatic module-level voltage shutdown for installer and firefighter safety
Detects abnormal PV connector behavior, preventing potential safety issues*
Built-in, industry-leading safety features for maximum protection of people and property
High efficiency (99.5% peak efficiency, 98.8% weighted efficiency)
Designed for extreme environmental conditions
Mitigates all types of module mismatch-loss, from manufacturing tolerance to partial shading and aging
Flexible system design for maximum space utilization and compatible with multiple module types, including high current and bi-facial
Advanced, real-time performance measurement with module-level monitoring 
Faster installations with simplified cable management and easy assembly using a single bolt
25-year product warranty
Available frame mounted in advance, for quicker installation
* Functionality subject to inverter model and firmware version
​SolarEdge S-Series Optimizer Technology Overview
SolarEdge Installation
SolarEdge PV Monitoring Portal
SolarEdge Rapid Shutdown
The specifications document is loading.
Generally all of our products are in stock and ready to ship within 2 business days.
If an item you ordered is out of stock, we will contact you within 1 business day with an expected ship date. You will then have the option to accept the new ship date or cancel your order.
Either way, we guarantee your card will never be charged until your order ships.