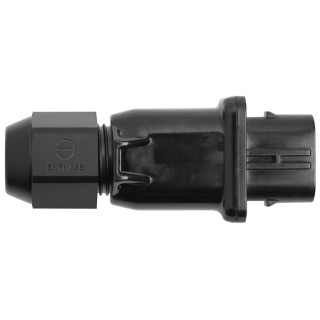 Enphase Q-CONN-10F Female Field-Wireable Connector
For Raw Q Cable, 10 Connector Bodies with 25 Female MC4 Tool Crimpable Pins, IQ Series, Qty. 10
---
Item # 1410-181
---
Enphase Q-CONN-10F Female Field-Wireable Connector, For Raw Q Cable, 10 Connector Bodies with 25 Female MC4 Tool Crimpable Pins, IQ Series, Qty. 10
Compatible with the raw Enphase Q Cable (purchased separately by the foot), the easy-to-use Q Field Wireable Q-CONN-10F (female) connector delivers greater on-site installation flexibility and further eliminates cable waste.  You will use the Enphase field-wireable connectors inconjunction with Enphase Q-Cable or field cable to easily connect Q cables on the roof without complex wiring. You will use male connectors to make connections from any Q Aggregator open connector and Q-CONN-10F connectors to make connections from any Q Cable open connector or use a mated pair of connectors to splice two cut ends of cable. You have added flexibility to make a jumper to connect with a remote part of the array, using Q-CONN-10F to Q-CONN-10F for cable-to-cable connections, or male to Q-CONN-10F for aggregator-to-cable extensions.
Features
Uses MC-style crimp tool
Female connector types
UL listed
The Enphase IQ System
IQ7 Series Microinverter Installation
The specifications document is loading.
Generally all of our products are in stock and ready to ship within 2 business days.
If an item you ordered is out of stock, we will contact you within 1 business day with an expected ship date. You will then have the option to accept the new ship date or cancel your order.
Either way, we guarantee your card will never be charged until your order ships.