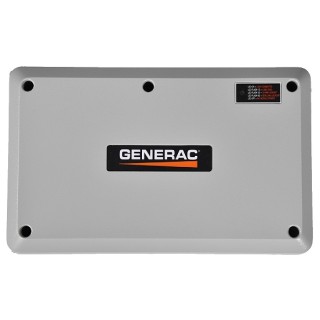 Generac PWRcell G0070060 Smart Management Module
SMM, for Automatic Load Shedding, Use With PWRcell Automatic Transfer Switch, 100A
---
Item # 1410-196
---
Generac G0070060 Smart Management Module, SMM, for Automatic Load Shedding, Use With PWRcell Automatic Transfer Switch, 100A
The Generac G0070060 Smart Management Module (SMM) is essential to a Generac PWRcell system. It works with your transfer switch, by monitoring each selected circuit and automatically supplying power where it's needed. This helps to manage power usage, prevent overload and increase backup capacity.
A Generac power management system can use up to eight individual Smart Management Modules, depending on your needs. The systems allows the user to set the load priority for each – putting you in control of which circuits matter most. The modules are given a load priority between 1-8 or set in a lock-out mode for loads that do not need to run in an outage.
SMMs do not require additional control devices for operation. They function by monitoring inverter power frequency (Hz). When loads demand more power than the inverter can produce, the PWRcell inverter will change frequency, signaling SMMs to shed loads and allow the inverter to recover.
PLEASE NOTE: Generac PWRcell Installer Certification is required for installation, commissioning and warranty service.
Features and Benefits
Integrate into a PWRcell solar + storage system for automatic power management
Type 3R enclosure for indoor or outdoor installation
Lock-out feature prevents loads from operating when system is operating under backup power
Intelligently manage up to 12 loads when used in conjunction with the PWRcell Automatic Transfer Switch
Complete Your PWRcell System with These Additional Items (Sold Separately)
PWRcell Full System Overview
The specifications document is loading.
Generally all of our products are in stock and ready to ship within 2 business days.
If an item you ordered is out of stock, we will contact you within 1 business day with an expected ship date. You will then have the option to accept the new ship date or cancel your order.
Either way, we guarantee your card will never be charged until your order ships.