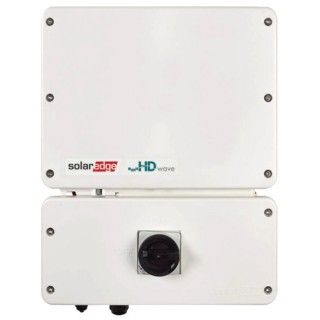 SolarEdge SE3000H-USS3BBC14 Energy Hub Inverter
SetApp Enabled, 5 Year Cell Plan, 3000W, 240VAC, 60Hz, 2 Unfused Inputs, GFCI/AFCI, RS485 and Ethernet, RG and Consumption Meters, RSD, UL1741-SA
---
Item # 1420-020
---
SolarEdge SE3000H-USS3BBC14 Energy Hub Inverter, SetApp Enabled, 5 Year Cell Plan, 7600W, 240VAC, 60Hz, 2 Unfused Inputs, GFCI/AFCI, RS485 and Ethernet, RG and Consumption Meters, RSD, UL1741-SA
Introducing the Energy Hub Inverter with Prism Technology
The SolarEdge SE3000H-USS3BBC14 Energy Hub Inverter pairs the innovation of HD-Wave technology with the power of StorEdge in a next generation home backup solution for higher efficiency and greater flexibility. With this inverter, you will have one storage solution to back up an entire home, be ready for battery and EV charging with built-in energy monitoring and an overall flexible system to meet future energy storage needs. When you pair the SolarEdge SE3000H-USS3BBC14 Energy Hub Inverter with a battery and SolarEdge's backup interface (sold separately), you will have a DC-coupled solution that can keep the whole home on even when the grid is down. When DC coupled with power-stacked batteries and the new backup interface, the Energy Hub Inverter supports up to 200% DC oversizing and can power part of or the entire home, up to 200 A, during grid outages. While also enabling fast and simple installation, the solution eliminates the requirement for a main panel upgrade or generation panel, even when connected to multiple inverters, batteries or generators. When DC coupled with batteries, the combined efficiency reaches 90.8%. With built-in metering providing insight into actual energy consumption and production, smart energy upgrades can be easily made to meet evolving energy needs.
Other improvements to the SE3000H-USS3BBC14 Energy Hub Inverter include improved commissioning and firmware updates through the SetApp mobile application accessed on a smartphone or tablet. The SE3000H-USS3BBC14 inverter also comes standard with a built-in DC safety switch, integrated rapid shutdown, and features a standard 12-year warranty extendable to 20 or 25 years.
When using the SolarEdge Backup Interface Unit (sold separately), up to three SolarEdge SE3000H-USS3BBC14 Energy Hub Hybrid inverters can be stacked for up to a total 22.8kW capacity. The BIU is used as an isolation device to island the system from the utility during a grid event. Each StorEdge Energy Hub inverter can support one or two batteries for a potential of 18.6kWh of storage capacity. If all three inverters are deployed, this storage potential could be up to 55.8kWh of stored power. The SolarEdge Backup Interface BI-EUSGN comes installed with a 200A main breaker and can intercept a 200A utility feed to provide for a whole home power backup solution, when deployed with sufficient inverters and batteries.
For partial home backup, the SolarEdge Backup Interface BI-NUSGN (which does not include the 200A main breaker) can be fed from the main panel and used as an isolation device for essential loads (up to 200A) to remain operational during a grid outage. For long duration outages, the BI also allows for generator input connection. If you integrate a generator, this will permit the system to sustain longer outages when solar resources may be limited. If the load imposed on the system during backup is greater than the inverter rating, the system will disconnect.
NOTE: The Energy Hub inverter can also be installed without the backup interface, allowing an upgradable system to be deployed presently, allowing you to add the Back Up Interface and batteries at a later date when needed.
Benefits
Peace of Mind - Meet rising outages due to utility and weather challenges
Maximize Solar Energy - Store unused solar in a battery to continually meet home demand and increase energy independence
Whole Home Backup - 200A backup interface powers whole home or selected loads
Generator Compatible - The unique ability to connect to a generator for even more power
Modular design - future ready with optional upgrades to DC-couple storage for full or partial home backup, built-in consumption monitoring and direct connection to the SolarEdge smart EV charger
Features
Up to 200% DC oversizing means more energy and self-consumption, less clipping, and optimized savings
Higher efficiency of 90.8%: one conversion with DC vs three with AC
Charge and discharge battery according to local times-of-use rates to keep bills low
One app to monitor solar production, energy storage and usage
Preselect battery charge levels in the event of unplanned outages
Take advantage of ITC and local energy storage incentives
Small, lightweight and easy to install
Multi-inverter, scalable StorEdge solution
Integrated arc fault protection and rapid shutdown for NEC 2014 and 2017, per article 690.11 and 690.12
Embedded revenue grade production data, ANSI C12.20 Class 0.5
The Energy Hub Solution Components
Energy Hub Inverter with Prism Technology
The specifications document is loading.
Generally all of our products are in stock and ready to ship within 2 business days.
If an item you ordered is out of stock, we will contact you within 1 business day with an expected ship date. You will then have the option to accept the new ship date or cancel your order.
Either way, we guarantee your card will never be charged until your order ships.