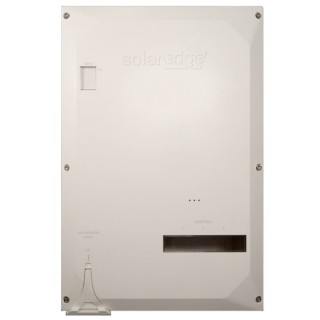 SolarEdge BI-EUSGN-01 Energy Hub Backup Interface
with 5000W Autoformer, Import/Export Meter, 200A Main Breaker, Rated for Service Side Connection
---
Item # 1420-031
(1)
---
SolarEdge BI-EUSGN-01 Energy Hub Backup Interface, with 5000W Autoformer, Import/Export Meter, 200A Main Breaker, Rated for Service Side Connection
Whole Home Backup Interface
The SolarEdge home backup solution automatically provides full or partial home backup power day or night, when the grid goes down. Unused solar power is stored in a high voltage battery, such as LG Chem RESU, for use during grid failures providing increased homeowner energy independence, in addition to its on-grid capabilities for maximizing self-consumption and electricity savings. The backup interface connects to the Energy Hub inverter (sold separately), automatically providing backup power to full or partial home loads during grid failures. It enables homeowners full flexibility when deciding which household loads to backup. The backup interface is pre-fitted with the SolarEdge energy meter (for self-consumption management) and the auto-transformer (for split phase balancing), for faster installations.
The SolarEdge Backup Interface BI-EUSGN comes installed with a 200A main breaker and can intercept a 200A utility feed to provide for a whole home power backup solution, when paired with sufficient inverters and batteries. For long duration outages, the BI also allows for generator input connection. The addition of a generator will permit the system to sustain longer outages when solar resources may be limited. Each Backup Interface comes standard with one 40A circuit breaker. If you are installing more than one SolarEdge Energy Hub Inverter, you will need to purchase either a SolarEdge CB-UPG-40-01 Circuit Breaker or a CB-UPG-63-01 for inverters 2 and 3.
NOTE: If the load imposed on the system during backup is greater than the inverter rating, the system will disconnect.
Features
Automatically provides backup power to home loads in the event of grid interruption
Entire home backup
Scalable solution to support higher power & higher capacity
Built-in Auto Transformer and Energy Meter for easier and faster installation
Seamless integration with the Energy Hub inverter to manage and monitor both PV generation and energy storage
Generator connection support
Energy Hub Inverter with Prism Technology: Backup Interface Wiring
The SolarEdge Backup Interface: Multiple Inverter Wiring Process
The specifications document is loading.
Generally all of our products are in stock and ready to ship within 2 business days.
If an item you ordered is out of stock, we will contact you within 1 business day with an expected ship date. You will then have the option to accept the new ship date or cancel your order.
Either way, we guarantee your card will never be charged until your order ships.