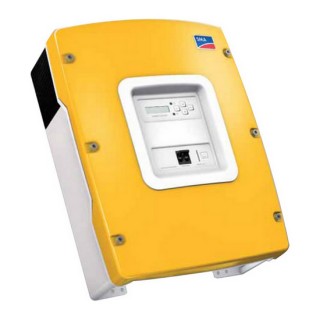 SMA Sunny Island 4548-US-10 Inverter
4500W, 120VAC, 60Hz, 56A Transfer, 48VDC, Sinewave, 100A Charger, with Battery Temp Sensor, SI4548-US-10, 4548-US
---
Item #

1420-015
---
SMA Sunny Island 4548-US-10 Inverter, 4500W, 120VAC, 60Hz, 56A Transfer, 48VDC, Sinewave, 100A Charger, with Battery Temp Sensor, SI4548-US-10, 4548-US
The Efficient Off-Grid Manager - Now with 20% More Power
SMA offers several options for installing world class, stand alone energy systems. Featuring AC coupled technology, the Sunny Island inverter is an intelligent system manager that creates a high quality, self-sufficient AC grid and protects sensitive batteries, extending system life.
In the Sunny Island system, electricity generators and loads are flexibly integrated. PV and wind energy systems, diesel generators, hydro power or CHP (Combined Heat and Power) can be modularly integrated in a large off-grid system. Equally adept at grid-tied back up, the Sunny Island system can also be easily designed to provide reliable power in the case of a grid outage.
The SMA SI4548-US-10 inverter is based on proven off-grid technology and feature industry leading power output. A maximum efficiency of 96% ensures peak production, which results in reduced diesel usage in rural communities. More flexible sizing allows for simplified system planning. And, with multicluster technology, up to 12 Sunny Islands can be integrated into off-grid power systems up 110 kW in size.
Features
Efficient
Maximum efficiency 96%
CEC efficiency of 94.5%
Charge level calculation
Intelligent battery management
Simple
Easy commissioning with the "Quick Configuration Guide"
Complete off-grid management
Excellent for grid-tied battery back up
Flexible
For Sunny Island systems from 2 kW to 100 kW Single
120/240 split-phase and three-phase operation, connectable in parallel and modularly expandable
Durable
Extreme overload capability
OptiCool™ active temperature management system
Five-year standard warranty
The specifications document is loading.
Generally all of our products are in stock and ready to ship within 2 business days.
If an item you ordered is out of stock, we will contact you within 1 business day with an expected ship date. You will then have the option to accept the new ship date or cancel your order.
Either way, we guarantee your card will never be charged until your order ships.