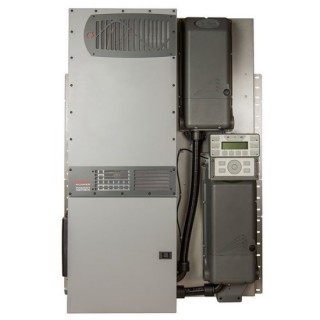 OutBack FPR-8048A-300AFCI FLEXpower Radian
8000W, 60Hz, 48VDC, (1) GS8048A-01 Inverter w/ ABC, (2) FM100 Charge Controllers, MATE3s, HUB10.3, GSLC-PV-300VDC, 120/240 AC Bypass, Surge Protector, RTS, UL1741-SA
---
Item # 1620-020
---
OutBack FPR-8048A-300AFCI FLEXpower Radian, 8000W, 60Hz, 48VDC, (1) GS8048A-01 Inverter w/ ABC, (2) FM100 Charge Controllers, MATE3s, HUB10.3, GSLC-PV-300VDC, 120/240 AC Bypass, Surge Protector, RTS, UL1741-SA
OutBack's FLEXpower Radian's are pre-assembled and pre-wired power systems that take the concept of fast, easy installation to a whole new level of performance, value and flexibility.
The FPR-8048A-300AFCI FLEXpower Radian integrates a 8000W, 60Hz Radian inverter/charger, (2) FM100-AFCI charge controllers (with built-in GFDI) and other essential devices (besides power sources and battery backup) in a completely integrated, pre-wired and factory-tested system. You just need to install the mounting bracket, hang the system on a wall, make the necessary connections and your system is fully operational. The FPR-8048A-300AFCI FLEXpower Radian is ideal for smaller power applications—including homes, cabins, remote communication sites and backup power systems.
The FPR FLEXpower Radian incorporates OutBack's GridZero technology, a superior level of intelligence in energy management allowing for self-generation and self-consumption programs. The unit is able to provide precise balancing between using stored energy, solar and utility power, blending-in the latter to overcome surges and load spikes. The Radian inverters can be used for either grid-tied or off-grid systems and have the capacity to use and charge any technology batteries, as well as advanced OutBack features including Grid Zero and Mini-Grid modes. The FLEXpower Radian also features an Advanced Battery Charging (ABC) profile option to support leading-edge battery technologies such as lithium-ion and others, and enhanced diagnostics for improved performance. Dual AC inputs allow connection to both the utility and a backup generator set. The FPR-8048A-300AFCI FLEXpower Radian is compatible with system monitoring and control via OpticsRE and is designed for 120/240 VAC single-phase output.
The FPR-8048A-300AFCI FLEXpower Radian is certified to UL1741 for US applications and CSA C22.2 No. 107.1 for Canada, and is IEC 62109-1 certified to meet the most stringent worldwide PV safety and emission standards.
Features
Single-phase 120/240V, True Sinewave Output, 48V
8000W Radian Inverter - programmable for seven different operational modes, with generator assist
Up to 99% peak efficiency with FM100-AFCI charge controller
Factory tested, pre-wired and pre-configured
Easy connection with a pre-assembled system and fully integrated GS Load Center
Optimized system footprint for cleaner and quicker installation
GridZero technology optimizes the balance between stored and renewable energy sources, minimizing grid dependence
Advanced Battery Charging (ABC) supports leading-edge battery technologies, including lithium-ion
Dual AC inputs for seamless generator integration in grid-interactive applications
Grid-interactive and stand-alone capability in one unit
System monitoring via web interface with OPTICS RE
Components carry all of the necessary UL Certifications
5-Year Standard Warranty with a 10-Year Option (sold separately)
Includes
(1) GS8048A-01 Radian Inverter/Charger
(2) FM100 Charge Controllers
(1) MATE3s Communications Controller
(1) HUB10.3 Communications Hub
(1) Mounting Plate and Bracket
(1) GSLC-PV1-300VDC Prewired Load Center
(1) FN-DC FLEXnet DC
Built-In MOV Surge Protection
(1) RTS Remote Temperature Sensor
The specifications document is loading.
Generally all of our products are in stock and ready to ship within 2 business days.
If an item you ordered is out of stock, we will contact you within 1 business day with an expected ship date. You will then have the option to accept the new ship date or cancel your order.
Either way, we guarantee your card will never be charged until your order ships.