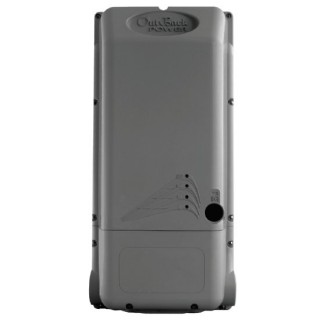 OutBack FLEXmax 100 FM100-300VDC-AFCI Charge Controller
100A, 300VDC, 24/36/48VDC, NEMA 3R, MPPT, Built-In GFCI
---
Item #

1730-001
---
OutBack FLEXmax 100 FM100-300VDC-AFCI Charge Controller, 100A, 300VDC, 24/36/48VDC, NEMA 3R, MPPT, Built-In GFCI
The FLEXmax 100 is the most advanced Maximum Power Point Tracking (MPPT) charge controller technology and power solution
OutBack Power's  FLEXmax FM100-300VDC-AFCI medium-voltage charge controller accepts higher voltages from PV arrays to allow for longer wire runs with reduced wire sizes. It can be used to charge 24-48 VDC battery systems from PV arrays with voltage up to 290VDC, but can withstand voltages up to 300VDC without damage. Output is rated at 100A at 25°C (with deration to 80 A at 40°C), with four-stage charging and an operating temperature range of -20°C to +60°C. NEMA 3R design allows for outdoor installation.
The FM100-300VDC-AFCI can be used in negative, positive, or floating ground systems. Ample wire bending space and oversized terminals provide easier installation with larger gauge wire. Servicing and replacing all power components can be done with the unit mounted on a wall and attached to conduit. It has integrated PV ground fault detection, interruption and indication which eliminate the need for an external GFP device. Built-in AUX relay has a 12VDC output of up to 250mA. Since the FM100-300VDC-AFCI has no onboard display, an OutBack Power MATE3s or AXS Card MODBUS/TCP interface is required to program this controller and have access the 128-day data-logging history and the programming and monitoring system functions. OutBack network communications and OPTICS RE compatibility allows the FLEXmax 100 to be remotely programed, monitored and controlled via any internet connected device providing unrivaled system integration. The remote temperature sensor (RTS) is needed, but is sold separately. All FLEXmax charge controllers are listed to UL 1741 and C22.2 No. 107.1 for the U.S.A. and Canada. The FM100 is also listed for IEC 62109-1.
Features
100A output for up to 6kW of charging with up to 99% efficiency
Compatible with 24-48VDC battery banks
Integrated arc fault protection
Updated MPPT software algorithm improves energy harvest vs. other controllers
System configures quickly with smart programming wizards (MATE3s required)
300VDC open-circuit voltage limit enables 2-4 string configuration that minimizes BOS
The only fully NEC 2017 compliant charge controller solution
5-Year Standard Warranty
Includes
(2) Mounting Brackets
(1) Grease Package
(1) Fan
(1) Label
The specifications document is loading.
Generally all of our products are in stock and ready to ship within 2 business days.
If an item you ordered is out of stock, we will contact you within 1 business day with an expected ship date. You will then have the option to accept the new ship date or cancel your order.
Either way, we guarantee your card will never be charged until your order ships.