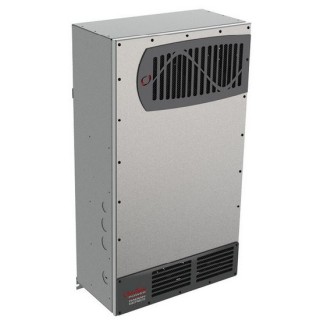 OutBack GS8048A-01 Radian Inverter/Charger
8000W, 120/240VAC, 60Hz(50Hz), 50A Transfer, 48VDC, Sinewave, 115A Charger, with BTS, Dual AC Inputs, ABC, GridZero Technology, UL1741-SA, Powered Coated Finish
---
Item #

1420-005
---
OutBack GS8048A-01 Radian Inverter/Charger, 8000W, 120/240VAC, 60Hz(50Hz), 50A Transfer, 48VDC, Sinewave, 115A Charger, with BTS, Dual AC Inputs, ABC, GridZero Technology,  UL1741-SA, Powered Coated Finish
The GS8048A-01 Radian Inverter/Charger features seven different programmable operating modes (with generator assist) and two advanced technologies (Advanced Battery Charging and GridZero), all adding up to unmatched performance, reliability, value and system flexibility. The GS8048A-01 is certified to UL1741 for US applications and CSA C22.2 No. 107.1 for Canada, and is IEC 62109-1 certified to meet the most stringent worldwide PV safety and emission standards.
The Radian Series GS8048A-01 Grid/Hybrid™ (full-flexibility grid-interactive/off-grid) Inverter/Charger is engineered toward one goal: making system design and installation easier and faster in grid-interactive and comprehensive off-grid applications. The Radian Series inherits the hallmark features of the original design, including: dual AC inputs for grid/generator flexibility with no external switching required, unparalleled surge capability and operational stability, easy field upgradeability and stacking capability for large system scaling, simplified system commissioning through a powerful, easy-to-use configuration wizard, and multi-mode operational flexibility. The system is also extremely flexible for expansion allowing nine units to be combined for three-phase operation and ten in parallel, for a single-phase operation.
In addition, it has Advanced Battery Charging (ABC) profile option to support leading-edge battery technologies such as Lithium-Ion and other traditional batteries it also has enhanced diagnostics for improved performance. The GS8048A-01 Grid/Hybrid™ Inverter/Charger also incorporates OutBack's GridZero technology, a superior level of intelligence in energy management for self-generation and self-consumption programs, providing precise balancing between using stored energy, solar and utility power, blending-in this power to overcome surges and load spikes when needed. GridZero operation makes it possible for a smaller inverter and battery system to perform like a much larger one when required, putting stored and renewable energy sources to work and minimizing grid dependence. GridZero technology make the Radian inverter ideal for use in complex utility environments.
Features
Grid-interactive and stand-alone capability in the same unit
8000 Watts of continuous power with dual AC inputs and peak operating efficiency of 96%
GridZero Technology minimizes grid dependence
Unsurpassed surge capacity
Field adjustable input/output voltage and frequency boundaries
Field serviceable modular design
GSLC load center option allows for quick and easy installation
Standard 5-Year Warranty with Optional 10-Year
The specifications document is loading.
Generally all of our products are in stock and ready to ship within 2 business days.
If an item you ordered is out of stock, we will contact you within 1 business day with an expected ship date. You will then have the option to accept the new ship date or cancel your order.
Either way, we guarantee your card will never be charged until your order ships.