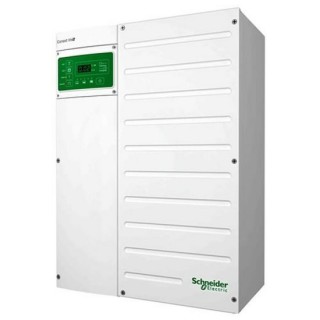 Schneider Electric Conext XW Pro 6848 NA (865-6848-21) Inverter/Charger
6800W, 120/240VAC, 50/60Hz, 60A Transfer, 48VDC, Sinewave, 140A PFC Charger, With BTS, UL1741-SA, 865-6848-21, RNW865684821
---
Item # 1420-014
---
Schneider Electric Conext XW Pro 6848 NA (865-6848-21) Hybrid Inverter/Charger, 6800W, 120/240VAC, 50/60Hz, 60A Transfer, 48VDC, Sinewave, 140A PFC Charger, With BTS, UL1741-SA, 865-6848-21, RNW865684821
Protect your home's power supply when the grid goes out. Save on energy costs with utility time of use and demand charge optimization.
The newest Conext XW Series hybrid inverter/charger, the XW Pro, is future-ready and designed to adapt to next-generation grid requirements. Schneider considers the XW Pro the heart of your home power system, connecting solar and battery storage with the grid for backup power and energy security. It is compliant with California Rule 21 and UL 1741-SA. It can be used for solar and storage, or backup power systems without solar and has an innovative, integrated design that minimizes external balance-of-system components allowing for quick and easy installation as either a grid-tie battery backup system or a fully off-grid power system. The XW Pro offers split-phase 120/240 VAC output from a single inverter. Up to 4 inverters can be paralleled for up to 27.2 kW of total output in a 120/240 VAC split-phase system. Charge controllers, such as the Schneider Electric XW-MPPT60-150 or the XW-MPPT80-600, are recommended for use with any PV array. Dual AC inputs enable AC generator input as well as grid interaction. An optional automatic generator start (AGS) unit is also available. A configurable auxiliary relay with an output of 250 mA at 12 VDC is included in each inverter. A battery temperature sensor is also included with each inverter, but only one is needed per system. The inverter is field-serviceable on the wall.
NOTE: The Conext™ Gateway (sold separately) is required to commission the XW Pro and the ComBox is not compatible with this inverter.
The XW+ Power Distribution Panel includes a conduit box and all AC/DC disconnects with wiring to sup- port a single inverter. The distribution panel has enough space and knockouts to add up to 3 inverters and/or 4 charge controllers. A field-reversible door with a magnetic catch simplifies access to wiring. Each charge controller requires the input breaker, or DC disconnect, and output breaker listed in the table below.
The XW+ Connection Kit contains everything needed to add a second inverter. For a third inverter, use one Connection Kit plus a pair of 5-foot 4/0 AWG inverter cables . An external transfer switch will be required to enable the inverter bypass function. For four inverters, use two Power Distribution Panels and two Connection Kits. Use the XW+ conduit box to retrofit XW+ inverters into existing systems that already have AC/DC disconnects.
Features
Backup Power and Off-Grid Performance
Reliable operation of backup power and off-grid loads with a high overload power rating
Seamless transition to backup power with an integrated high-speed transfer switch
Grid and generator input ports
Designed for Reliability
Extensive quality and reliability testing
Highly Accelerated Life Testing (HALT)
Globally proven and recognized field performance
Flexible
Single or split-phase systems from 7.0 kW to 102 kW
Supports DC coupled and AC coupled off-grid and grid-tie architectures
Supports charging of Lithium Ion battery pack integration
Grid tied and off-grid, Rule 21, HECO Rule 14H and PREPA compliant
Easy to Service
Field serviceable with replacement boards and spare parts
Monitor, troubleshoot or upgrade firmware with Conext Gateway
Easy to Install
System configures quickly into compact wall-mounted system
Integrates both grid and generator power with dual AC inputs
Balance of system components integrates battery bank, solar charge controllers and generators
Commission the entire system with Conext Gateway and Conext Insight 2
Additional Optional Accessories (Sold Separately)
The specifications document is loading.
Generally all of our products are in stock and ready to ship within 2 business days.
If an item you ordered is out of stock, we will contact you within 1 business day with an expected ship date. You will then have the option to accept the new ship date or cancel your order.
Either way, we guarantee your card will never be charged until your order ships.