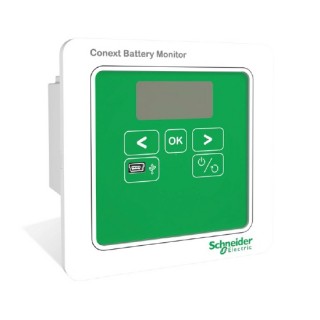 Schneider Electric 865-1080-01 Conext Battery Monitor
24/48V, RNW865108001
---
Item # 2120-031
---
Schneider Electric 865-1080-01 Conext Battery Monitor, 24/48V, RNW865108001
Conext Battery Monitor indicates hours of battery based runtime and determines battery bank state of charge. Conext Battery Monitor shares key battery bank parameters with Conext XW+ inverter/chargers improving overall system performance of 24V and 48V battery banks. Detecting battery string imbalance is determined using innovative mid-point sensing technology providing time to address the issue before performance is significantly impacted.
The Battery Monitor features built-in data logging and a local display to selectively show the voltage, current, consumed amp-hours, remaining capacity and remaining hours. The same information and battery bank data is reported by ComBox and distributed to other Conext devices such XW+ inverter chargers as well as MPPT Solar Charge Controllers, Automatic Generator Start module and System Control Panel via Xanbus network connectivity enhancing performance of the overall system.
Industrial and telecom customers can integrate Conext Battery Monitor with energy management systems over ModbusTM RS485.
The specifications document is loading.
Generally all of our products are in stock and ready to ship within 2 business days.
If an item you ordered is out of stock, we will contact you within 1 business day with an expected ship date. You will then have the option to accept the new ship date or cancel your order.
Either way, we guarantee your card will never be charged until your order ships.