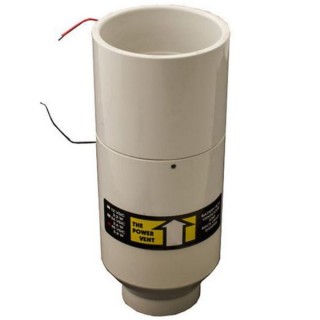 Zephyr Industries 48 VDC Battery Box Power Vent
48VDC, 6W Max Power Consumption, 8 CFM
---
Item #

1810-003
---
Zephyr Industries 48 VDC Battery Box Power Vent, 48VDC, 6W Max Power Consumption, 8 CFM
Lead-acid batteries produce hydrogen gas when charging, but leaving a battery box lid open to vent gas in cold climates can reduce battery capacity. Proper venting and thermal management is especially important when battery boxes are placed in basements, garages and sheds. As heat rises in the structure, a low pressure area forms around the battery box and pushes cool air into the box, which forces gases out and into the structure. The Power Vent controls battery box venting, removing hydrogen gas while reducing cold air infiltration into the box. The Power Vent contains a gravity-operated damper that normally stays closed. When connected to a voltage-controlled relay, the fan operates only when the batteries are being charged and blows gas vapors out. Designed for battery banks under 2,200 Ah and charge rates under 125 A. 
The fan can be operated from the auxiliary relay on high-end charge controllers or by a voltage-controlled switch. The 48 VDC Power Vent uses 6 Watts and pushes 8 CFM. It measures 4" in diameter and is 10" long, with a 3" PVC pipe socket on the inlet and outlet.
Generally all of our products are in stock and ready to ship within 2 business days.
If an item you ordered is out of stock, we will contact you within 1 business day with an expected ship date. You will then have the option to accept the new ship date or cancel your order.
Either way, we guarantee your card will never be charged until your order ships.