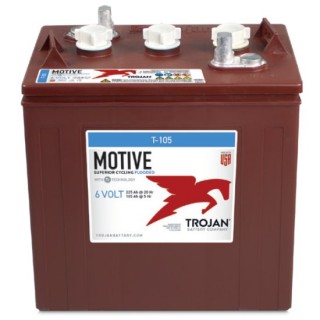 Trojan Battery T-105 Flooded Battery
6V, 225Ah @ 20Hr, Golf Cart GC2, Type 1 Embedded Low Profile Terminal (ELPT)
---
Item # 1840-038
---
Trojan Battery T-105 Flooded Battery, 6V, 225Ah @ 20Hr, Golf Cart GC2, Type 1 Embedded Low Profile Terminal (ELPT)
The Signature Line of deep-cycle flooded batteries is the flagship of Trojan's product portfolio. Engineered to provide rugged durability and outstanding performance, Trojan's Signature Line is perfectly suited for use in renewable energy systems where lowest life-cycle cost is the key consideration. An all around power house, the Signature Line features Trojan's historically-proven engineering with T2 Technology, an advanced battery technology for maximum sustained performance, longer life and increased total energy.
Trojan Grid Technology
Trojan's grid technology is a lead antimony alloy grid mixture formulated for use with Trojan's Alpha Plus®® Paste with T2 Technology™. The grid formulation provides exceptional structural adhesion between the Alpha Plus Paste and the grid frame. Thick grids reinforce the strength of the frame and reduce overall corrosion. The overall grid configuration is optimized to enhance current flow through the grid network providing exceTrojan Battery Technologyptional battery performance, reducing downtime and lowering overall maintenance costs.
Maxguard® T2 Separator
Available in Trojan's Signature Line of deep-cycle flooded batteries is our Maxguard® T2 advanced separator. Trojan's Maxguard T2 separator features a multi-rib geometry which keeps acid channels open longer enhancing electrochemical processing while reducing the risk of stratification. Maxguard's proprietary rubber-based material formulation inhibits antimony transfer between the positive grids and negative plates; a protection not available in many other competitor batteries. A fortified, thick back web provides even greater separator strength resulting in a more robust battery with increased protection against failures caused by separator degradation. Trojan's Maxguard T2 advanced separator sustains performance providing exceptionally longer battery life and significantly lowering your operating costs.
Alpha Plus® Paste with T2 Technology™
Trojan's Alpha Plus Paste is a proprietary, high-density paste formulation precisely engineered to deliver outstanding battery performance. This high-density paste optimizes porosity development in the active material utilizing the active material more effectively resulting in sustained battery performance over a longer period of time. Trojan's T2 Technology features a patent-pending T2 metal agent which is incorporated into Trojan's Alpha Plus Paste further strengthening the electrochemical processing capabilities of Alpha Plus Paste. Together Alpha Plus Paste with T2 Technology increase both sustained capacity and total overall ampere-hours resulting in more operating power for your application. It's a key reason why Trojan batteries consistently outperform the competition.
The specifications document is loading.
Generally all of our products are in stock and ready to ship within 2 business days.
If an item you ordered is out of stock, we will contact you within 1 business day with an expected ship date. You will then have the option to accept the new ship date or cancel your order.
Either way, we guarantee your card will never be charged until your order ships.