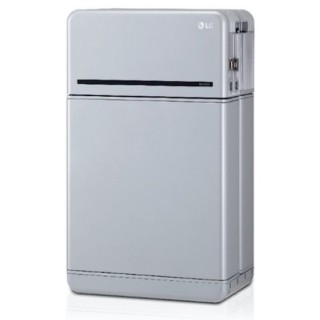 LG Energy Solution RESU10H (RESU 10H) Prime HV Battery
9.6kWh Usable Energy, 400VDC, 5kW Cont, 7kW Peak, Indoor/Outdoor Rated, CAN and RS485
---
Item # 1850-013
---
LG Energy Solution RESU10H (RESU 10H) Prime HV Battery, 9.6kWh Usable Energy, 400VDC, 5kW Continuous, 7kW Peak, Indoor/Outdoor Rated, CAN and RS485
The LG Energy Solution RESU10H Prime HV Battery is LG's largest battery in the category to date, capable of housing enough electricity necessary to effectively run an entire home. The LG RESU Prime family is designed to meet the needs of today's consumers, who now rely on home energy solutions to power both their lives and careers. The shift to a work-from-home culture has highlighted increased demand for reliable energy solutions, driven by the uncertainty created from increased blackouts and the inefficiencies of aged grid systems. The LG RESU Prime offers consumers a sense of self-reliance, in an intuitive format they can scale to meet their needs.
A single RESU10H Prime offers 9.6kWh of usable energy with a continuous power output of 5kW and peak power output of 7kW. Or connect two RESU10H Prime batteries to a single inverter and the usable energy will increase to 19.2kWh (the power output will be limited to 5kW).
If addittional power is needed, install a second inverter with one or two batteries for 10kW of continous power output. This larger power rating means the backup loads on a typical household can now include high-surge power appliances like pumps and air-conditioners (as long as the inverter can also deliver the power required during an outage).
The modular design of the battery leads to a much easier installation and ability to perform on-site maintenance. In fact, there are only three main components: the connector plate, battery modules and control unit. The battery modules even have built-in handles which allow for easier movability.
Because of the weight, the RESU10H Prime can only be installed on the floor or mounted on the wall. The compact design and simplified inverter connections offer a signifanct improvement over the original RESU batteries.
NOTE: The RESU10H Prime is currently only compatible with SolarEdge Energy Hub inverters. However, it will also be fully operational with the SMA Sunny Boy Storage inverters in the near future. This battery is not directly compatible with first generation SolarEdge StorEdge inverters.
Features
9.6kWh usable energy.
5kW continuous and 7kW peak power output.
Improved warranty: 10 years with 70% original capacity.
Outdoor rated to NEMA 3R (IP55).
Maximum operating temperature range:

Charge: 14°F (-10°C) to 122°F (50°C).
Discharge: -4°F (-20°C) to 122°F (50°C).

Recommended operating temperature range: 59°F (15°C) to 86°F (30°C) for maximum life.
Maximum altitude: 6,562 ft (2000 m)
Certifications
Battery Cells: UL1642
Battery: CE / RCM /  IEC 62619 / UL1973
Pack: IEC62477-1
Hazardous Materials Classification: Class 9
Transportation: UN38.3
LG Energy Solution RESU Prime Battery Introduction
The specifications document is loading.
Generally all of our products are in stock and ready to ship within 2 business days.
If an item you ordered is out of stock, we will contact you within 1 business day with an expected ship date. You will then have the option to accept the new ship date or cancel your order.
Either way, we guarantee your card will never be charged until your order ships.