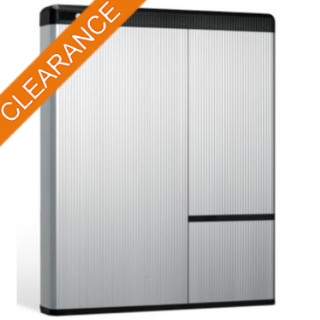 LG Chem RESU10H-C HV Battery
Primary Battery, 9.8kWh Storage Capacity, 400VDC, 63Ah, Compatible with SMA Sunny Boy Storage Inverters, NEMA 3R
---
Item #

1850-003
---
While Quantities Last - All Sales Final
LG Chem RESU10H-C HV Battery, Primary Battery, 9.8kWh Storage Capacity, 400VDC, 63Ah, Compatible with SMA Sunny Boy Storage Inverters, NEMA 3R
The LG Chem RESU10H-C is a lithium-ion battery system used for solar systems requiring energy storage with daily cycling. It has the ability to cycle daily for up to 10 years as needed for self-consumption, peak load shaving, backup power and other similar systems. The RESU10H-C is a primary battery and designed to be paired with the new SMA Sunny Boy Storage inverters. This particular version is NOT compatible with SolarEdge inverters. Lifting handles (sold separately) are highly recommended for installing these batteries. Two handles are needed to lift and install them on a wall, and can be used again on future installs.
Features
9.8 kWh of storage capacity with 9.3 kWh of usable storage capacity
5 kW maximum power input and output, maximum continuous output of 3.3 kW
7kW peak output for 10 seconds
Includes a BMS (Battery Management System) with over-voltage, over-current, short circuit, and reverse polarity protection to ensure complete safety.
DC disconnect circuit breaker, and ON/OFF switch
Outdoor rated to NEMA 3R (IP55).
The maximum operating temperature range is 14°F (-10°C) to 113°F (45°C), with a recommended operating temperature range is 59°F (15°C) to 86°F (30°C) for maximum life.
Listed to UL1642, UL1973, UL1741, UL1998, NEC 110.26, UN3480, IEC 62133.
Ships as Hazardous materials Class 9, UN38.3 (UNDOT).
Warranty is 10 years to 60% of original capacity.
NOTE: Maximum installation altitude is 6,562 ft (2000 m).
LG Chem RESUH Battery Installation
The specifications document is loading.
Our Clearance Item inventory is sold while quantities last. Please contact us prior to order placement if you are concerned about item availability.
If an item you ordered is sold out, we will contact you within 1 business day with a possible alternate. Because the replacement item may be higher priced, you will have the option to accept the alternate, remove the alternate, or cancel your order entirely.
Either way, we guarantee your card will never be charged until your order ships.
All Clearance Item sales are final and cannot be returned.