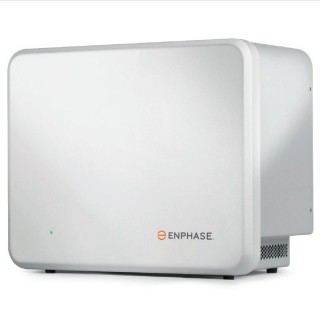 Enphase IQ6PLUS-B1200-LL-I-US00-RV1 IQ Battery
1.2kW, Lithium Iron Phosphate, 240VAC, For Grid-Tied PV Systems with Enphase IQ-Series Microinverters and IQ Envoy Gateway
---
Item #

1850-002
---
Enphase IQ6PLUS-B1200-LL-I-US00-RV1 IQ Battery, 1.2kW, Lithium Iron Phosphate, 240VAC, For Grid-Tied PV Systems with Enphase IQ-Series Microinverters and IQ Envoy Gateway
The Enphase IQ6PLUS-B1200-LL-I-US00-RV1 IQ Battery™ is the heart of the Enphase Storage System. The IQ Battery is simple to install, safe, very reliable and provides the lowest lifetime energy cost for both new solar customers and retrofit customers. You can install as many batteries as needed to meet the needs of the system owner.
The Enphase Storage System includes the Enphase IQ6PLUS-B1200-LL-I-US00-RV1 IQ Battery with integrated Enphase IQ-Series Microinverter™. The system uses the Enphase IQ Envoy™ to measure PV production and home energy consumption. The system knows when it is optimal to charge or discharge the battery so that energy is stored when it is abundant and used when scarce.
The Enphase IQ Envoy operates as a gateway between the storage system and Enphase Enlighten™ web-based monitoring and analysis software. The IQ Envoy monitors and controls the IQ Battery through the integrated Enphase IQ Microinverter. It collects energy and performance data from all Enphase IQ Microinverters at the site over on-site AC power lines, and it forwards that data to Enlighten, via the Internet, for statistical reporting and system control. The Enphase IQ Envoy communications gateway with properly installed production and consumption CT's is required for operation of the IQ Battery.
The Enphase Enlighten™ web-based monitoring and analysis software analyzes the data collected by the AC integrated microinverter in the IQ Battery. Enlighten constantly monitors every Enphase IQ Microinverter connected to the IQ Envoy and is essential for system monitoring and troubleshooting. Enlighten provides a wide range of information on system performance. You can access Enlighten on your computer or mobile device at any time.
The Enphase IQ Microinverter converts the DC output of the PV module into grid-compliant AC power. In addition to performing the DC to AC conversion, it maximizes energy production by using a sophisticated Maximum Power Point Tracking (MPPT) algorithm.
NOTE: When used with non-Enphase PV systems, the IQ Envoy collects production and consumption data, but it does not control grid management functions of non-Enphase PV system components.
Features
Simple
Quick and easy single-person installation
Easily interconnects with standard household AC wiring
Safe
No high voltage DC in system
Lithium iron phosphate (LFP) chemistry
Cells safety tested and certified by TÜV Rheinland
Reliable
Long cycle life - prismatic cells are highly stable over time
10-year warranty
No single point of failure
Modular
No need to oversize the storage system
Easily expandable
Lowest cost of entry
Required Additional Equipment (Sold Separately)
Enphase IQ-Series Microinverters (IQ6, IQ6+, IQ7, IQ7+, IQ7X)
Enphase IQ Envoy ENV-IQ-AM1-240 M Communications Gateway
Enphase Envoy-S CT-200-SPLIT Consumption Monitoring CT
AC Battery BWM-16IN-B Mounting Bracket
See Just How Simple It Is To Install
Getting Solar Homes Storage Ready with Enphase
The specifications document is loading.
Generally all of our products are in stock and ready to ship within 2 business days.
If an item you ordered is out of stock, we will contact you within 1 business day with an expected ship date. You will then have the option to accept the new ship date or cancel your order.
Either way, we guarantee your card will never be charged until your order ships.