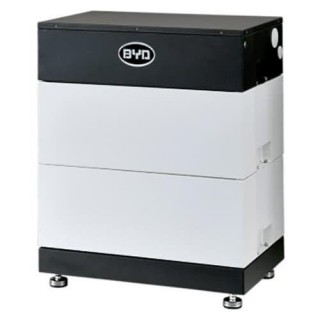 BYD B-Plus H5.0 HV Battery
High Voltage, 5.12kWh Storage Capacity, 2 Modules, Includes BCU, 204V, Compatible with SMA Sunny Boy Storage Inverters, IP55
---
Item #

1850-006
---
BYD B-Plus H5.0 HV Battery, High Voltage, 5.12kWh Storage Capacity, 2 Modules, Includes BCU, 204V, Compatible with SMA Sunny Boy Storage Inverters, IP55
The Battery For High Voltage Applications
The latest system generation of BYD's Battery-Box adds additional functionality to the modular lithium-iron phosphate (LFP) storage system and meets the toughest industry standards. The B-Plus H5.0 HV Battery will back up your home during a power outage. When paired with SMA's Sunny Boy Storage 3.8, 5.0 or 6.0 Storage Inverter with secure power supply, the system will provide a high output power capability and safe chemistry for a great solution to your home energy needs. Plus, the ability to tailor the battery size and scale over time offers maximum flexibility, covering a wide range of application scenarios. All models are capable of high-powered emergency-backup and feature both on- and off-grid functionality. The systems also feature the patented modular plug-in design and do not require any internal wiring, thus allowing for superior ease of use. Combined with the improved design and locking mechanism this makes installation even easier and saves on installation time.
The B-Plus H5.0 HV Battery is comprised of (2) B-Plus H 2.5 HV Battery Modules and a Battery Control Unit (BCU) that are connected in series to achieve a usable capacity of 5.12kWh. You can add additional modules to expand the B-Plus H5.0 HV Battery up to 10.24kWh. The modular design makes for easy transport and installation. Indoor and outdoor rated, with communications to SMA Sunny Boy Storage inverters over CANBUS protocol.
Features
Simple
Easy plug-in installation without cables
Efficient
1 C power provides power for all applications
Flexible
Extend anytime to adapt to new power requirements
Certifications
UL1642 / UL1973 / FCC / UN38.8
Additional Equipment (Sold Separately)
SMA Automatic Backup Unit
At the heart of BYD's technology is its batteries. One of the largest rechargeable battery manufacturers in the world, BYD develops batteries for a broad range of applications—from cell phones and laptops to large-scale, grid-connected energy storage systems. BYD's non-toxic Iron-Phosphate battery chemistry makes it the safest choice available on the market today. Founded in 1995 as a pioneer in battery technology, BYD's mission is to change the world by creating a complete, clean-energy ecosystem that reduces the world's reliance on petroleum. BYD's innovative products are leaders in multiple sectors, including battery-electric automobiles, buses, medium- and heavy-duty trucks and forklifts; the SkyRail monorail system; solar power generation and energy storage systems; and consumer electronics. BYD North America's headquarters is located in Downtown Los Angeles, with a 450,000-square-foot bus manufacturing facility in Lancaster, California. BYD employs over 750 workers in the United States. BYD is the only electric bus manufacturer with a unionized workforce (SMART Local 105) and a Community Benefits Agreement establishing training and apprenticeship programs for workers with traditionally high barriers to employment, and mandating diversity in hiring. BYD has been the world's largest electric vehicle manufacturer for the past three years running, in both consumer and commercial/industrial electric vehicles. Last year BYD sold more than 113,000 plug-in electric vehicles worldwide and currently has nearly 40,000 electric buses in service around the world. BYD employs over 20,000 engineers globally, constantly innovating in order to make the world a better place. BYD is a publicly traded company with 60% of its stocks owned by U.S. investors. Warren Buffett's Berkshire Hathaway is the largest single shareholder at 8%.
The specifications document is loading.
Generally all of our products are in stock and ready to ship within 2 business days.
If an item you ordered is out of stock, we will contact you within 1 business day with an expected ship date. You will then have the option to accept the new ship date or cancel your order.
Either way, we guarantee your card will never be charged until your order ships.