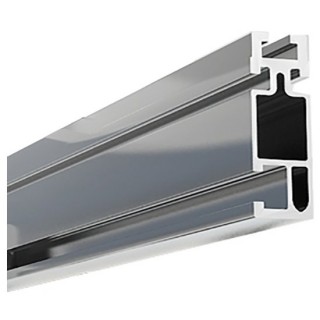 UniRac 310168C SolarMount Rail
168", Clear Anodized Finish, Qty. 1
---
Item # 1340-570
---
UniRac 310168C SolarMount Rail, 168", Clear Anodized Finish, Qty. 1
UniRac's SolarMount system defined the standard in solar racking and the components of the system are designed to get you off the roof faster. Their grounding & bonding process eliminates the need for copper wire and grounding straps, reducing your overall costs.  UniRac's new Superior Aesthetics Package provides a streamlined clean edge with a new front trim for enhanced curb appeal and there no special brackets required for installation. SolarMount is a complete solution with revolutionary universal clamps, FlashKit Pro, full system UL 2703 certification and a 25-year warranty. Not only is SolarMount easy to install, but best-in-class aesthetics make it the most attractive on any block!
The SolarMount 310168C Rail is fully compatible with all of the existing SolarMount components and comes in a clear anodized finish. If your desired rail length exceeds 246 inches, you will need a splice kit. Spliced segments should be as close to equal lengths as possible.
Calculating Rail Length
Add module widths + .25" space between modules for mid clamps + 1.5" to each end for end clamping. This formula will provide you with total length of rails.
For example, to mount five modules that are each 40" wide, the calculations are as follows:
5 x 40" = 200" (account for width of modules in portrait mode)
4 x .25" = 1" (account for width of mid-clamps between the five modules)
2 x 1.5" = 3" (account for two end clamps on ends of rail)
200" + 1" + 3" = 204" (total length of one rail)
Two 18' rails will be required to mount these five modules
Generally all of our products are in stock and ready to ship within 2 business days.
If an item you ordered is out of stock, we will contact you within 1 business day with an expected ship date. You will then have the option to accept the new ship date or cancel your order.
Either way, we guarantee your card will never be charged until your order ships.