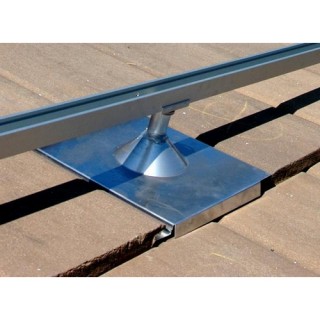 Quick Mount PV QMFTM A 1 Specialty Flat Tile Mount
12" x 17", Mill Finish Qty. 1
---
Item #

1330-150
---
Quick Mount PV QMFTM A 1 Specialty Flat Tile Mount, 12" x 17", Mill Finish Qty. 1
Quick Mount PV's Specialty Flat Tile Mount dramatically reduces the time and effort needed to double flash flat tile roof penetrations. For flashing at the tile level, we've pre-fabricated an aluminum "tile" designed to drop directly into a standard 12" x 17" flat tile roof. Just replace the tile; there's no tile drilling or cutting.
The aluminum sub-flashing is sized for easy code compliance, and molded to fit snugly over the mounting plate and removable standoff. Use standard roofing methods at the deck – bibbing or 3-coursing, for instance – to seal off rain from the penetrations and fasteners. All exposed components are aluminum, stainless steel or EPDM rubber to help keep penetrations water tight for the life of the PV system and most roofs.
PV and More
The Quick Mount PV Specialty Flat Tile Roof Mount is the logical choice not only for solar PV installation, it's also excellent for installing HVAC equipment, antennas and satellite dishes – in fact, use Quick Mount PV to secure and protect every roof installation you put your name on.
Features
Works with all standard concrete tile roofs
No tile cutting, no tile drilling
Flashed at both the deck and tile level
100% IBC compliant
All fasteners and hardware included
All exposed hardware is stainless steel
Meets or exceeds tile roofing best practices
10-year warranty; 50-year expected life
Works with all leading racks
Patent number 7,861,485
Each mount kit includes
Cast aluminum base plate, 5.5" x 3.5" x 0.5"
12" x 17" fitted aluminum flashing
12" x 12" peel-and-stick sub-roof flashing (not shown)
1-1/4" x 5-1/2" extruded aluminum extender post
5/16-18 x 3/4" grade 8 bolt
5/16-18 x 1" stainless steel bolt
Two 5/16-18 x 2" hex bolts with 5/16-18 toggles (for OSB substrate installations)
Four 1/4" x 1-1/2" lag bolts (for plywood substrate installations) (not shown)
EPDM rubber counter flash
5/16" sealing washer
5/16" ID fender washer
Available Finishes
Aluminum mill
Clear anodized
Bronze anodized
Generally all of our products are in stock and ready to ship within 2 business days.
If an item you ordered is out of stock, we will contact you within 1 business day with an expected ship date. You will then have the option to accept the new ship date or cancel your order.
Either way, we guarantee your card will never be charged until your order ships.