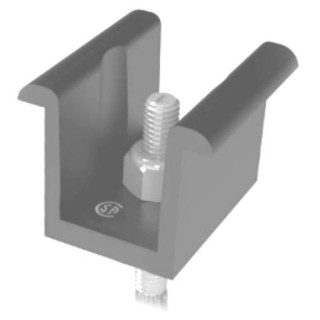 UniRac 302030M SolarMount Pro Series Universal Mid Clamp
Fits 30mm-51mm Frames, Preassembled, Integrated Bonding, Mill Finish, Qty. 1
---
Item # 1340-143
---
UniRac 302030M SolarMount Pro Series Universal Mid Clamp, Fits 30mm-51mm Frames, Preassembled, Integrated Bonding, Mill Finish, Qty. 1
UniRac's SolarMount Pro Series is the professionals' choice for residential PV mounting applications. It is also ideal for homeowner's because every aspect of the system is designed for an easier, faster installation experience. SolarMount is a complete solution with revolutionary universal mid and end clamps, FlashKit Pro, full system UL 2703 certification and a 25-year warranty. Not only is SolarMount easy to install, but best-in-class aesthetics make it the most attractive on any block!
One tool and a one person install is possible with the universal, self-standing 302030M SolarMount Pro Series Universal Mid Clamp. With recessed hardware, you will achieve the clean look you value. This universal clamp secures 30mm-51mm module frames and includes UL2703 integrated bonding and a proprietary coating that prevents galling. Easy to access bolt head makes for a simple installation. The 302030M is also available in Dark aluminum.
Ordering Mid Clamps: For each row, take one less than the number of modules in the row and multiply that figure by 2. For example, a row of 4 modules requires 6 mid clamps: (4 - 1) x 2 = 6.
SolarMount Pro Series Installation
Generally all of our products are in stock and ready to ship within 2 business days.
If an item you ordered is out of stock, we will contact you within 1 business day with an expected ship date. You will then have the option to accept the new ship date or cancel your order.
Either way, we guarantee your card will never be charged until your order ships.