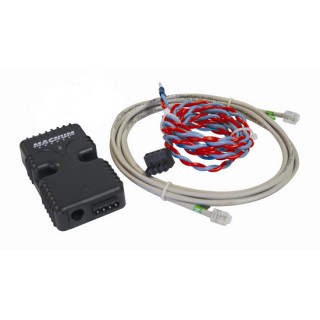 Magnum Energy ME-BMK-NS Battery Monitoring Kit
State of Charge Meter, Does Not Include DC Shunt
---
Item #

2120-041
---
Magnum Energy ME-BMK-NS Battery Monitoring Kit, State of Charge Meter, Does Not Include DC Shunt
The ME-BMK-NS (Battery Monitor Kit - No Shunt)* from Magnum Energy gives you a "fuel gauge" type of meter for your battery bank. It monitors the battery bank and reports the percentage state of charge, real time amps, voltage, amp-hours in/out, and the minimum/maximum DC volts. The Battery Monitor Kit includes the sense module, sense and communication cables. This ME-BMK-NS is identical to the ME-BMK except it does not include the 500A/mV shunt. However, this shunt is required to be installed in the battery system for the Battery Monitor to work.
* The ME-BMK-NS requires a Magnum inverter with a "Network" port and a ME-RC (revision 2.0 or higher) or ME-ARC remote control.
Generally all of our products are in stock and ready to ship within 2 business days.
If an item you ordered is out of stock, we will contact you within 1 business day with an expected ship date. You will then have the option to accept the new ship date or cancel your order.
Either way, we guarantee your card will never be charged until your order ships.