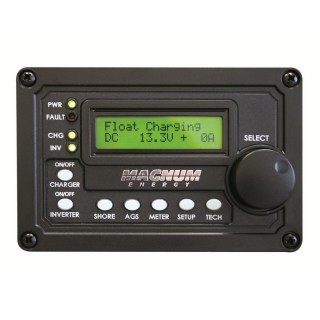 Magnum Energy ME-RC50 Digital LCD Display Remote Panel
Flush Mount with 50' Cable
---
Item #

2130-022
---
Magnum Energy ME-RC50 Digital LCD Display Remote Panel, Flush Mount with 50' Cable
The ME-RC Remote Control communicates with the inverter to easily operate and monitor your inverter and charger from a remote location.
This Remote Control has an easy-to-read LCD screen and displays the inverter/charger status with the "at a glance" LEDs. Soft keys provide simple access to menus and a rotary encoder knob allows you to scroll through and easily configure the adjustable settings in the inverter (or any connected accessory) and maintain the critical settings in nonvolatile memory.
The ME-RC also has the option of controlling the ME-AGS Automatic Gen Start and the ME-BMK Battery Monitor Kit (requires revison 2.0 or higher remote) using a network connection to the inverter. This remote has convienient finger-tip operation, including the new one-knob programming. This remote can be used with the ME, MS, MS-PAE, MS-E, RD and RD-E Series inverters to monitor inverter and charger status and to customize the inverter or charger programming parameters. The MM and MMS Series inverter/chargers can also use this remote, however all the adjustable parameters available in the ME-RC may not be available in the MM and MMS models.
Features
Comes standard with a 50-foot, 4-conductor (twisted-pair) telephone cable.
Includes nonvolatile memory (preserves adjustable settings, even if power to the remote or inverter is removed).
LED Indicators – The at-a-glance LEDs provide the inverter/charger status in a straightforward way.
LCD Display – The LCD display is a 16 x 2 line (32 characters total), alphanumeric display used for setting up the inverter/charger operation,as well as viewing current status or fault messages.
ON/OFF Buttons (x2) – The ON/OFF buttons allow the inverter or charger to be independently and quickly enabled or disabled.
Menu Buttons (x5) – The menu buttons allow the inverter or charger to be confi gured to your specifi c system preferences. These buttons also allow simple access to menu items that can help with monitoring and troubleshooting your  inverter/charger system.
Rotary SELECT Knob – The rotary encoder knob is similar to a car dash radio knob and is used to quickly scroll through and select various menu items and settings. Pushing this rotary knob allows you to select a menu item, or to save a setting  once it is displayed on the LCD.
Generally all of our products are in stock and ready to ship within 2 business days.
If an item you ordered is out of stock, we will contact you within 1 business day with an expected ship date. You will then have the option to accept the new ship date or cancel your order.
Either way, we guarantee your card will never be charged until your order ships.