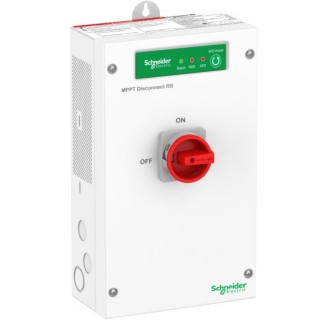 Schneider Electric 865-1036 MPPT Disconnect RS
Rapid Shutdown With Integrated PLC Transmitter, Compatible with Tigo TS4-F Modules, UL1699B, UL1741, AFCI, RNW8651036
---
Item # 1410-041
---
Schneider Electric 865-1036 MPPT Disconnect RS, Rapid Shutdown With Integrated PLC Transmitter, Compatible with Tigo TS4-F Modules, UL1699B, UL1741, AFCI, RNW8651036
Easy to Install and Commission for Rapid Shutdown PV Arrays and NEC 2017 Compliance
The MPPT Disconnect RS is an array DC disconnect, rapid shutdown device which also has arc fault protection for the solar array. It can be used with PV arrays at voltages up to 600 VDC, and is an accessory for pairing with either the Schneider XW-MPPT60-150 and XW-MPPT80-600 charge controllers which can achieve multiple configurations for various site/system conditions. It uses the RS Initiator (sold separately), or other shutoff switch to signal a rapid shutdown. The MPPT Disconnect RS has an itegrated SunSpec rapid shutdown signal transmitter using Power Line Communication (PLC). When operating it sends out a signal over the PV power wiring to the SunSpec module level shutdown devices, such as the Tigo® TS4-R-F (Fire Safety) or other similar devices, to keep them turned on. During a shut-down it will stop sending the stay alive signal, and the module devices will shut off.
Features
2 Leg Disconnect, Compliant with NEC 2017 670.12
Lockout Tagout (LOTO) Capability
2 Input Channels With Up To 2 Strings per Channel
The specifications document is loading.
Generally all of our products are in stock and ready to ship within 2 business days.
If an item you ordered is out of stock, we will contact you within 1 business day with an expected ship date. You will then have the option to accept the new ship date or cancel your order.
Either way, we guarantee your card will never be charged until your order ships.