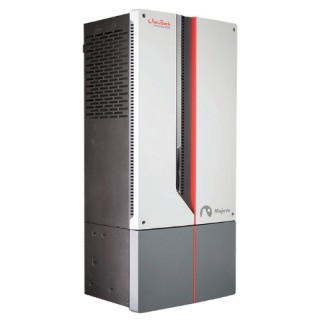 OutBack OGHI8048A Mojave Inverter/Charger
8000W, 120/240VAC, 60Hz, 48VDC, AC Coupled Only, UL 1741 SA, UL 9540
---
Item # 1420-023
---
OutBack OGHI8048A Mojave Inverter/Charger, 8000W, 120/240VAC, 60Hz, 48VDC, AC Coupled Only, UL 1741 SA, UL 9540
The Mojave platform combines the latest power electronics and control technology with the old-school muscle and practical features that define OutBack Power.
The OGHI8048A Mojave inverter/charger continues the impressive legacy of robust off-grid and grid-hybrid performance for which OutBack Power's FX, FXR and Radian platforms are well known. But it doesn't stop there. The Mojave inverter/charger does away with external system controllers and includes an integrated wiring compartment for faster, clutter-free installation.
On-Grid or Off, Be Ready for Anything
The OGHI8048A Mojave inverter/charger makes it easy to add the economic and resilience benefits of energy storage to existing residential PV systems. It has a backup power capacity of 8000W and surge capacity of 10000W. It can also transition from grid to backup power in as fast as 20 milliseconds - not 1 to 2 seconds like many other systems.
The OGHI8048A uses any commonly available 48VDC battery bank, such as lead (flooded, AGM, or gel) or many Lithium batteries. The Mojave inverter/charger can be AC-coupled with most solar inverters up to 8000W. This solar power will supply loads, feed power back to the grid via net metering, or charge the battery depending on the mode, active loads and battery state of charge.
The Mojave inverter/charger also has impressive monitoring and programming capabilities by using any smartphone, tablet or laptop. Simply open a web browser within your local area network via WiFi or Ethernet and use the built-in web-based user interface. Or monitor and control your system from the internet anywhere in the world by using OPTICS RE.
Features
Be ready for anything with off-grid capability
Easily start motors and compressors commonly found in freezers and HVAC systems, outpacing other energy storage systems
Seamlessly AC-couple with UL 1741 SA listed grid-tied inverters up to 8000W for easy addition to existing solar PV systems
8,000W backup power at 120/240VAC
Operating modes include: Backup, Grid Support, Net Metering, Non-Export and Off Grid
Monitor and control using the intuitive user interface via integrated Wi-Fi hotspot and a smartphone, tablet or laptop
Can also monitor and control over the Internet using OPTICS RE
Easily add a generator or other secondary AC source
Quickly and easily install with mounting plate and roomy integrated wiring compartment
UL 1741 SA, UL 1973, CSA 22.2 No. 107.1, UL 9540 Pending, HECO Rule 14H SRD, CA Rule 21 SRD
Overview
The specifications document is loading.
Generally all of our products are in stock and ready to ship within 2 business days.
If an item you ordered is out of stock, we will contact you within 1 business day with an expected ship date. You will then have the option to accept the new ship date or cancel your order.
Either way, we guarantee your card will never be charged until your order ships.