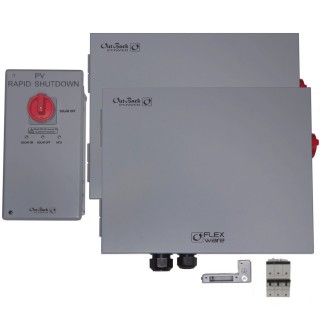 OutBack FLEXware ICSPLUS-2 Rapid Shutdown and AFCI System
For Up To 12 Strings, Includes (2) FWPV6-FH600-SDA 6-String Combiner Boxes, (1) RSI, (1) BKR-CTRL-DC, (1) PNL-75D-DC-RT, UL 1741-SA
---
Item #

1410-183
---
OutBack FLEXware ICSPLUS-2 Rapid Shutdown and AFCI System, For Up To 12 Strings, Includes (2) FWPV6-FH600-SDA 6-String Combiner Boxes, (1) RSI, (1) BKR-CTRL-DC, (1) PNL-75D-DC-RT, UL 1741-SA
The OutBack FLEXware ICSPLUS-2 provides a fully-compliant and comprehensive PV rapid shutdown and arc fault protection combiner solution by meeting the following 2014 National Electric Code requirements for PV systems:
NEC 690.11 — Arc fault protection (protects against arc faults due to loose connections, damaged wires or other DC component failures)
NEC 690.12 — Rapid shutdown (allows first responders to safely de-energize controlled conductors)
NEC 690.15 — DC combiner disconnect (opens all ungrounded circuit conductors from all energy sources)
The FLEXware ICSPLUS-2 System is rated to 600VDC for integration in a wide range of systems and designed for ease of service and clean wire management. This packaged system is designed to be an easy-to-order, complete solution for battery based systems and includes two combiner boxes, while individual components can be ordered for alternative system needs, including use with grid-direct PV inverters. When used with OutBack power conversion and energy storage components, the system will represent the only single-brand UL and NEC-compliant solution from rooftop to battery. The primary component in the ICS Plus system is the DC combiner box. The ICSPLUS-2 combines up to twelve PV strings within (2) FWPV6-FH600-SDA combiners which are rated for 15A or 20A fuses (not included) and a combined capacity of 96A and 600VDC. It includes (6) 600 VDC DIN-mounted fuse holders and provides an overcurrent protective device (OCPD) for each circuit. The AFCI device is located here. The combiner provides a means of disconnecting locally, while also providing a means for PV rapid shutdown functionality to de-energize PV circuits within 10 feet of the PV array.
Features
First end-to-end solution listed to UL1741 with PV rapid shutdown systems (PVRSS)
Arc fault circuit interrupter (AFCI) listed to UL1699B with local and remote indication
Type 3R enclosure rated for indoor or outdoor installation
Flexible design — install the combiner box vertically, horizontally, or at any intermediate angle; mount to racking or under the PV array
Interoperability with compatible third-party PV rapid shutdown system equipment (PVRSE) with a dry contact input
Combiner box has removable component panel for ease of wire management and for serviceability
Combiner box has easy-to-install DIN-mount fuses for bi-directional overcurrent protection
Lockable disconnects on combiner and rapid shutdown box
Communications use building wire commonly available in the field (THHN/THWN-2)
Ground lug and grounding terminal bus bar for system and equipment grounding
Internal factory prewiring to save time during installation
Includes
(2) FWPV6-FH600-SDA Combiners
RSI (Rapid Shutdown Initiator) which works with the combiner box to induce the rapid shutdown function
PNL-75D-DC-RT - Realy-Trip Breaker (RTB) which physically opens the circuits near the charge controller(s)
BKR-CTRL-DC - Breaker control and power supply which powers the RSI, RTB and combiner(s)
NOTE: Charge controllers are sold separately.
The specifications document is loading.
Generally all of our products are in stock and ready to ship within 2 business days.
If an item you ordered is out of stock, we will contact you within 1 business day with an expected ship date. You will then have the option to accept the new ship date or cancel your order.
Either way, we guarantee your card will never be charged until your order ships.