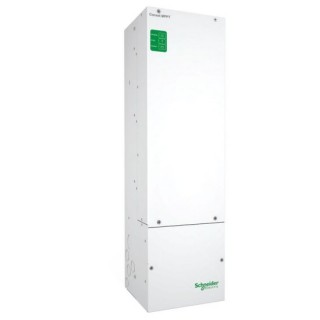 Schneider Electric XW-MPPT100-600 Charge Controller
100A, 600V, 24 or 48VDC, UL/CSA, 865-1034, RNW8651034
---
Item # 1730-035
---
Schneider Electric XW-MPPT100-600 Charge Controller, 100A, 600V, 24 or 48VDC, UL/CSA, 865-1034, RNW8651034
Optimum system performance and flexibility with DC coupled solar with storage
The Schneider Electric Solar Charge Controller (SCC) is a photovoltaic (PV) charge controller that tracks the electrical maximum power point of a PV array to deliver the maximum available current for charging batteries. When charging, the SCC regulates battery voltage and output current based on the amount of energy available from the PV array and state-of-charge of the battery. Schneider Electric's latest Conext MPPT 100 amp, 600 volt DC charge controller is the most efficient voltage controller on the market. Wire size and distance from the charge controller are important design elements when dealing with very high-power solar arrays. The maximum DC input voltage of 600 volts allows for higher string voltage and overall device operation. When your solar array must be mounted far away from the charge controller, this model is ideal because you can use a smaller wire size to deliver power to the controller if you simply customize your array for a higher voltage. When you consider the cost savings that comes when using a smaller wire scale, this controller can help save money on your installation costs. This controller can also be used to charge batteries from grid-tie arrays with high voltage.
The Schneider Electric XW-MPPT100-600 Charge Controller provides optimal device output for DC-coupled solar and storage installations, as well as simple and versatile PV array installation. The MPPT 100 is suitable for residential grid-tied self-supply and off-grid networks, and is flexible for larger installations, with up to 6 kW of charging capacity and allowance for over-sized arrays. With 2 string installations, the XW-MPPT100-600 provides faster installation and a lower balance of device costs, plus it is also compatible with Conext XW and SW inverters. The MPPT PV array input window is 195 to 550 VDC, which supports an output of up to 100 amps for 24 or 48 VDC battery banks. The charge controller has a configurable single-function auxiliary output to drive a load control relay or to activate devices such as vent fans or indicator alarms. Full output current of 100A is available without de-rating in ambient temperatures up to 113 °F (45 ºC). Over-temperature protection de-rates the power throughput when ambient temperatures are higher. The XW-MPPT100-600 also features protections for input over/under voltage, output over current, and back-feed (reverse current). Built-in ground-fault protection (GFP) eliminates the need for a separate GFP breaker. This unit is configurable for positive, negative, and ungrounded PV systems. Standby power draw is less than 1 W. For NEC 2017 compliance with module-level rapid shutdown and equipment disconnect features, the MPPT Disconnect RS accessory can be installed.
The XW-MPPT100-600 can be used with the XW Power Distribution Panel, or stand-alone in other PV systems. You can use a Square D HU361RB 600 VDC Disconnect, or the XW-Disco-RS as an array disconnect. Use a 125 A breaker for the XW-MPPT100-600 on the battery side of the controller.
A battery temperature sensor is included with the controller. The XW-MPPT100-600 is compatible with Xanbus-enabled devices, such as the XW Series inverter/charger, the System Control Panel, Conext Gateway, XW Automatic Generator Start Module, and other XW solar charge controllers through the Xanbus network. It can also be installed in a stand-alone mode with an XW System Control Panel or Conext Gateway.
NOTE: The SCP (sold separately) provides a wall mount display for monitoring and fault reporting and is needed for setup and configuration
Features
Optimum System Performance
High power, 600 VDC MPPT charge controller for DC coupled solar and storage
100A rating for output charging power up to 6 kW
Flexibility for oversized PV array power ratings e.g., 7 kW or more
Ideal for grid tied self-supply and off-grid systems with high PV to battery to grid efficiency
Ability to recharge dead batteries from solar, providing maximum energy resilience for longer duration grid outages
Harvest more energy with shade tolerant fast sweep MPPT algorithm
Flexible
Flexible string sizing with a wide MPPT and PV operating voltage range
Compatible with all brands of PV Modules and wide range of 24 VDC and 48 VDC battery technologies
Stand-alone application or integration with XW Pro, XW+ and SW series storage inverters for a complete solar and storage solution
Easy to Install
2 string installations and smaller wire sizing with 600 VDC PV arrays, allowing faster, lower cost installations
No need for a combiner box with DC breakers or fuses
Easy to install PV disconnect and NEC 2017 compliant rapid shutdown transmitter with the MPPT Disconnect RS accessory, UL1741 PVRSS certified
Compatible with Insight Energy Management
Setup and configuration
Remote monitoring & control with advanced data security
Web and mobile app
Multi-site management for installers
The specifications document is loading.
Generally all of our products are in stock and ready to ship within 2 business days.
If an item you ordered is out of stock, we will contact you within 1 business day with an expected ship date. You will then have the option to accept the new ship date or cancel your order.
Either way, we guarantee your card will never be charged until your order ships.