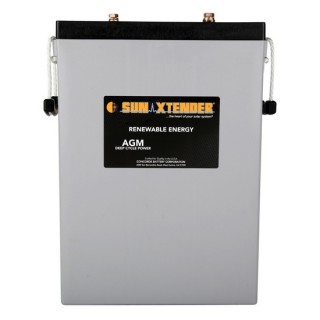 Concorde PVX-4050HT SunXtender Sealed AGM Battery
6V, 405Ah @ 24 Hours
---
Item # 1820-057
---
Concorde PVX-4050HT SunXtender Sealed AGM Battery, 6V, 405Ah @ 24 Hours
Sun Xtender® Batteries are the Original "AGM" (Absorbent Glass Mat) Technology Adopted by the U.S. Military and Worldwide Airframe Manufacturers.
Concorde produces very high-quality, well-regarded sealed AGM-type batteries. Their Sun Xtender series is optimized for deep-cycle photovoltaic service with a safe valve-regulated, lead-calcium, maintenance-free design. There are no exposed lead terminals on this series. A recessed copper alloy terminal with threaded insert is used to reduce the chance of a short circuit. All batteries are equipped with built-in lifting handles, unless noted otherwise.
Concorde Battery's PVX-4050HT Sealed AGM Battery is the newest member of the SunXtender® solar battery product line. This battery is the L-16 battery size, a well known 6-volt option used in both grid tied and off grid renewable energy storage systems.
Features
Copper alloy terminals for improved electrical connections
New cover is flat top design. No protruding or exposed vent valves.1
Reinforced container walls to reduce bulging
High impact strength copolymer polypropylene case and cover
Completely sealed valve regulated construction
Immobilized electrolyte non-spillable
Maintenance free design never requires watering
Absorbed glass mat (AGM) micro-porous glass separators retain electrolyte
Flame arresting pressure regulated safety valves
UL recognized systems component
Low self discharge rate approximately 1% per month at 25oC (77oF)
Operate over a wide range of temperatures from -40oC (-40oF) to +72oC (+160oF)
Classified as "Non-Spillable Battery" for transport; complies with DOT HMR49, Non-Hazardous Materials.
Generally all of our products are in stock and ready to ship within 2 business days.
If an item you ordered is out of stock, we will contact you within 1 business day with an expected ship date. You will then have the option to accept the new ship date or cancel your order.
Either way, we guarantee your card will never be charged until your order ships.