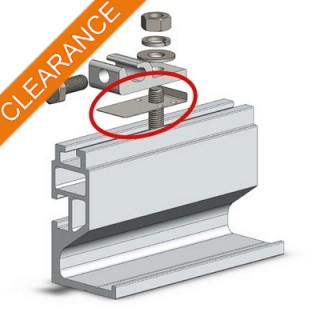 Wiley Electronics WEEB Washer for 6.7 Grounding Lug
Replacement Part, Qty. 1
---
Item #

2040-020
---
While Quantities Last - All Sales Final
Wiley Electronics WEEB Washer for 6.7 Grounding Lug, Replacement Part, Qty. 1
The WEEBLug consists of two parts. The washer portion is designed to provide a reliable electrical connection with anodized aluminum pieces. The Lug portion allows the lay-in connection of an electrical grounding conductor. The WEEBLug may be attached to the top of a mounting rail with a captive bolt, or fastened to any aluminum piece after drilling a ¼" clearance hole.
Our Clearance Item inventory is sold while quantities last. Please contact us before order placement if you are concerned about item availability.
If an item you ordered is sold out, we will contact you within 1 business day with a possible alternate. Because the replacement item may be higher priced, you will have the option to accept the alternate, remove the alternate, or cancel your order entirely.
Either way, we guarantee your card will never be charged until your order ships.
All Clearance Item sales are final and cannot be returned.