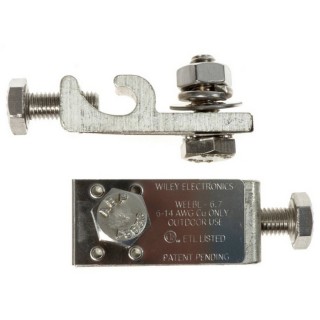 IronRidge 29-4000-002 WEEB Grounding Lug
Qty. 1
---
Item #

2040-022
---
IronRidge 29-4000-002 WEEB Grounding Lug, Qty. 1
The WEEB Lug consists of a WEEB (Washer, Electrical Equipment Bond), lay-in lug, and hardware. It is used with one solid or stranded copper wire (14AWG to 6AWG), or two copper wires (12AWG to 10AWG) to provide a continuous ground on roof or ground mounted solar systems. Unlike traditional lay-in lugs, the WEEB Lug does not require surface preparation on rail or module to install. The WEEB Lug is installed using stainless steel mounting hardware. When the hardware is tightened the WEEB's specialized teeth embed into anodized aluminum, galvanized steel, or any electrically conductive metal to establish a gas tight electrical connection. The tin-plated Lug assures minimum contact resistance and protection against corrosion. Copper wire is clamped by a 1/4-28 stainless steel screw, which is horizontal to the tang for easy access when mounted under a PV module. The low profile of the WEEB Lug allows it to be installed in a variety of positions.
• Material: 304 stainless steel, tin-plated copper, outdoor rated
• Low profile design
• Multiple equipment ground conductor allowance: One 14 AWG to 6 AWG or two 10 AWG, two 12 AWG
• Listed to ANSI/UL 467 by Intertek ETL
Generally all of our products are in stock and ready to ship within 2 business days.
If an item you ordered is out of stock, we will contact you within 1 business day with an expected ship date. You will then have the option to accept the new ship date or cancel your order.
Either way, we guarantee your card will never be charged until your order ships.