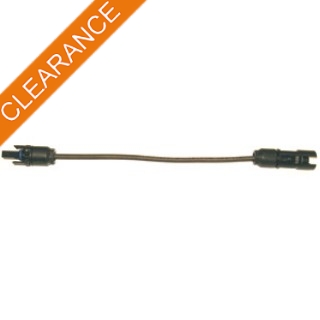 Code Approved USE-2 6' Cable
10 AWG, 7-Strand with Tyco Female Negative & Male Neutral, 600VDC
---
Item # 2010-007
---
While Quantities Last - All Sales Final
Code Approved USE-2 6' Cable, 10 AWG, 7-Strand with Tyco Female Negative & Male Neutral, 600VDC
These cables have Tyco SolarLok connectors to match the connectors on some SCHOTT, Day4Energy, GE and CSI Solar modules. These cables have a neutral male at one end and a negative female at the other so they can be used to extend the cables on the modules or be cut in half and used to connect to a roof-top j-box or combiner. This polarity works for most connections but is not guaranteed for all modules. Made with single insulated black #10 AWG, USE-2 sunlight-resistant cable. Use the locking sleeve where a tool is required to disconnect.
Our Clearance Item inventory is sold while quantities last. Please contact us before order placement if you are concerned about item availability.
If an item you ordered is sold out, we will contact you within 1 business day with a possible alternate. Because the replacement item may be higher priced, you will have the option to accept the alternate, remove the alternate, or cancel your order entirely.
Either way, we guarantee your card will never be charged until your order ships.
All Clearance Item sales are final and cannot be returned.