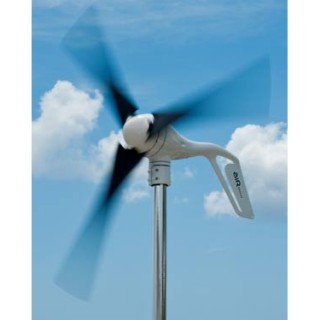 Primus Wind Power 1-ARBM-15-24 AIR Breeze Wind Turbine
160W, 24VDC, Marine Version
---
Item # 2650-013
---
Primus Wind Power 1-ARBM-15-24 AIR Breeze Wind Turbine, 160W, 24VDC, Marine Version
AIR Breeze provides energy you can count on in challenging conditions. This field-proven unit is engineered for battery-charging applications in coastal to desert to Arctic environments. It delivers the energy you need for communications, offshore structures, sailing or remote monitoring, to name a few. With optimized electronic controls, AIR Breeze provides energy quietly and efficiently.
Rated power: 160 W at 28mph (12.5m/s). 5-year limited warranty.
High performance for land and sea
When you need to charge your battery-powered applications, the AIR Breeze can get the job done in coastal or land-based uses. The AIR Breeze is an ideal wind turbine to pair with solar PV to offset those cloudy or stormy periods and ensure energy production year-round. AIR Breeze is built and backed the worldwide leader in small wind.
Corrosion resistant, aircraft quality paint with a marine grade O-ring seal and stainless steel fasteners, ensuring durability in challenging conditions
Pair with solar PV for redundant energy production year-round
Lightweight design is simple and easy-to-install; integrated controller for plug-and-play operation
Produces 40 kWh of energy per month*- generating energy in a wide range of wind speeds
Advanced microprocessor technology for superior performance in high wind protection without mechanical braking
AIR Breeze Certifications:
Canadian Standards Association (CSA) International Certificate of Compliance
Restrictive of Hazardous Substances (RoHS) Compliance
CE Declaration of Comformity (for battery charging applications only)
AIR Breeze Specifications
Energy Potential
38 kWh/month at 13.4 mph (6.0 m/s)
Swept Area
11.5 ft2 (1.07 m2)
Rotor Diameter
46 in (1.17 m)
Weight
13 lb (5.9 kg)
Shipping Dimensions
27 x 12.5 x 9 in (686 x 318 x 229 mm) 17 lb (7.7 kg)
Startup Wind Speed
7 mph (3.13 m/s)
Voltage
12, 24 and 48 VDC
Turbine Controller
Microprocessor-based smart internal regulator
Body
Cast aluminum with corrosion resistant paint
Blades
(3) Injection-molded composite
Alternator
Permanent magnet brushless
Overspeed Protection
Electronic torque control
Survival Wind Speed
110 mph (49.2 m/s)
Mount*
1.5 in schedule 40 pipe 1.9 in (48 mm) outer diameter
Warranty
Five year limited
*Primus Wind Power offers a range of tower options specifically designed to work with theAirfamily of products.
Generally all of our products are in stock and ready to ship within 2 business days.
If an item you ordered is out of stock, we will contact you within 1 business day with an expected ship date. You will then have the option to accept the new ship date or cancel your order.
Either way, we guarantee your card will never be charged until your order ships.