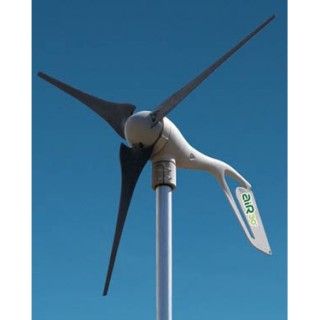 Primus Wind Power 1-AR30-10-12 AIR 30 Wind Turbine
400W, 12VDC
---
Item # 2650-005
---
Primus Wind Power 1-AR30-10-12 AIR 30 Wind Turbine, 400W, 12VDC
Optimum energy in high wind environments
When you need energy, the AIR 30 delivers. It's hands down the best energy choice for off-grid land-based applications in high wind environments. Use it for SCADA, telecom, security, cathodic protection -- you name it. With optimized software, AIR 30 consistently delivers energy where it matters by the only name in the industry: Primus Wind Power.
The AIR 30 is the best choice for reliable battery-charging in very high wind areas (above 15 mph average annual wind speed). The AIR 30 has lower energy production at lower average wind speeds than either the AIR Breeze or the AIR 40. It has a bare aluminum finish for use in non-corrosive environments, so it is not suitable for marine use. Rated power: 400 W at 28 mph (12.5m/s). CSA Listed for the US and Canada. 5-year limited warranty.
Steadfast, trustworthy performance for top-notch function
The AIR 30's heavy-duty design can withstand most high wind environments. The AIR 30 is an ideal turbine for hybrid combinations with solar PV. Not for use in marine environments. AIR 30 is built and backed by the worldwide leader in small wind.
High-quality, third-party tested components for reliability and safety
Pair with solar PV for redundant energy production year-round
Advanced microprocessor technology for superior performance and high wind protection without mechanical braking
Lightweight design is simple and easy-to-install; integrated power electronics for plug-and-play operation
Produces 30 kWh of energy a month* for land-based, high wind applications
AIR 30 Certifications
Restrictive of Hazardous Substances (RoHS) Compliance
Canadian Standards Association (CSA) International Certificate of Compliance
CE Declaration of Comformity (for battery charging applications only)
All units weigh 13 lbs, have a 46" rotor diameter (11.5 ft2 swept area) and mount on a 1.5" Schedule 40 steel pipe (1 7/8" [48mm] outer diameter). Made in USA.
AIR 30 Specifications
Energy Potential
Approx. 30 kWh a month at 13.4 mph (6.0 m/s)
Swept Area
11.5 ft2 (1.07 m2)
Rotor Diameter
46 in (1.17 m)
Weight
13 lb (5.9 kg)
Shipping Dimensions
27 x 12.5 x 9 in (686 x 318 x 229 mm) 17 lb (7.7 kg)
Startup Wind Speed
8 mph (3.58 m/s)
Voltage
12, 24 and 48 VDC
Turbine Controller
Microprocessor-based smart internal regulator
Body
Cast aluminum
Blades
(3) Injection-molded composite
Alternator
Permanent magnet brushless
Overspeed Protection
Electronic torque control
Survival Wind Speed
110 mph (49.2 m/s)
Mount*
1.5 in schedule 40 pipe 1.9 in (48 mm) outer diameter
Warranty
Five year limited
*Primus Wind Power offers a range of tower options specifically designed to work with theAirfamily of products.
Generally all of our products are in stock and ready to ship within 2 business days.
If an item you ordered is out of stock, we will contact you within 1 business day with an expected ship date. You will then have the option to accept the new ship date or cancel your order.
Either way, we guarantee your card will never be charged until your order ships.