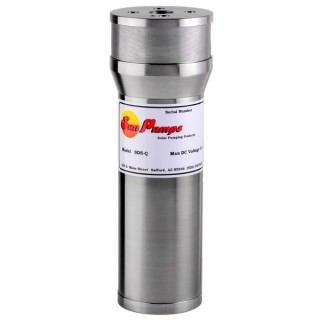 Sun Pumps SDS-Q-130 Solar Submersible Pump
---
Item #

3440-040
---
Sun Pumps SDS-Q-130 Solar Submersible Pump
Sun Pumps SDS series submersible pumps are highly efficient, low voltage, DC powered, diaphragm type positive displacement pumps designed specifically for water delivery in remote locations.
They operate on 12 to 30 volts of DC current that may be supplied from a variety of independent power sources including solar panels or batteries. Power requirements can be as little as 20 watts.
Constructed of 316 and 304 stainless steel or all 316 stainless steel, these pumps are the highest quality submersible pumps in their class on the market.
Sun Pumps SDS series pumps can be installed below the water level in a pond, river or cistern, or installed by hand into a ground water well. They can be used to fill an open tank or in a pressurized water delivery system.
Simplicity is the key feature of the SDS series pumps. They are easy to install, require very little maintenance and are repairable.
Sun Pumps SDS series pumps are designed for use in stand alone water delivery systems. They are pollution-free, corrosion-free and self-lubricating. It is the ideal way to provide water for remote homes, campsites, livestock, small farms or for many other needs beyond the commercial power grid.
Shipping Weight: 20.00 lbs
Depth Range: 80 feet (24 meters)
Flow Range: 1.4 - 4.0 GPM (5.3 - 15 LPM)
Max Load Current: 4.1 Amps
Max Load Power: 123 Watts
Discharge Size: 3/4" NPT
Minimum Well Diameter: 5" (125mm)
DC Voltage Range: 30-Dec
Generally all of our products are in stock and ready to ship within 2 business days.
If an item you ordered is out of stock, we will contact you within 1 business day with an expected ship date. You will then have the option to accept the new ship date or cancel your order.
Either way, we guarantee your card will never be charged until your order ships.