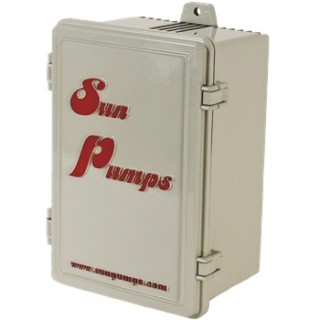 Sun Pumps PCC-BT-M2 Solar Pump Controller
For Brush Type DC Motors, 2730W Max Power
---
Item #

3420-013
---
Sun Pumps PCC-BT-M2 Solar Pump Controller, For Brush Type DC Motors, 2730W Max Power
The PCC-BT series controllers are microprocessor based solid state DC power converters designed as the interface between a solar module array and a permanent magnet brush type DC pump motor. The purpose of the controller is to operate the high efficiency brush type DC motor, maximize the total daily water output while providing protection for the pump as well as providing an interface with other related pumping system equipment and accessories.
The PCC-BT series controllers will boost the current of solar modules in low sunlight conditions while holding the voltage of the solar modules at the maximum power point. This allows a pump to start much earlier in the morning, reach maximum production faster, operate better on cloudy days, and run longer in the evenings. 
Sun Pumps PCC-BT series pump controllers have many unique features designed specifically for water pumping. These features include maximum current regulation, maximum voltage regulation, sometimes referred to as "motor speed control", two remote switch circuits, low power shut-down to save wear on the pump, indicator lights and an LCD screen that displays motor voltage, current, motor speed and power . 
The controller is mounted in a high quality, powder coated, cast aluminum enclosure rated for outdoor use.
Shipping Weight: 11.00 lbs
Nominal Voltage Range: 30-220
Max Open Circuit Voltage: 300
Minimum Open Circuit Voltage: 30
Max Load Current: 14 Amps
Generally all of our products are in stock and ready to ship within 2 business days.
If an item you ordered is out of stock, we will contact you within 1 business day with an expected ship date. You will then have the option to accept the new ship date or cancel your order.
Either way, we guarantee your card will never be charged until your order ships.