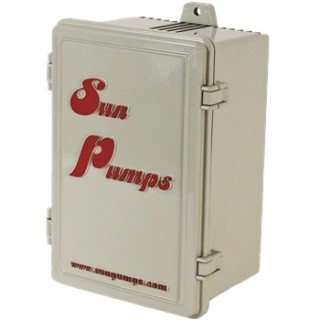 Sun Pumps PCC-48-BLS-M2 Brushless Motor Controller
For 48V Battery Systems Only, 2000W Max Power
---
Item #

3420-012
---
Sun Pumps PCC-48BLS-M2 Brushless Motor Controller, For 48V Battery Systems Only, 2000W Max Power
Sun Pumps battery powered brushless DC pumps and PCC series Sensorless Brushless DC pump controllers are the key components to high quality battery powered pumping systems. Their stand-alone, pollution free and low noise operation makes them an ideal solution for remote homes, irrigation projects, and wildlife and stock watering without violating the environment.
The PCC-BLS series controllers are microprocessor based solid state DC power converters designed as the interface between a battery bank and a three phase sensorless brushless DC pump motor. The purpose of the controller is to operate the high efficiency, high reliability DC motor and maximize the total daily water output while providing protection for the pump as well as providing an interface with other related pumping system equipment. NOTE: Three phase brushless DC motors cannot be run from a battery bank without a brushless DC controller.
The controller is mounted in a high quality, powder coated, cast aluminum enclosure rated for outdoor use.
Shipping Weight: 11.00 lbs
Nominal Voltage Range: 48-52
Max Voltage Input: 63.9
Low Battery Voltage: 47
Dead Battery Shut-Down Voltage: 44
Max Load Current: 40 Amps
Generally all of our products are in stock and ready to ship within 2 business days.
If an item you ordered is out of stock, we will contact you within 1 business day with an expected ship date. You will then have the option to accept the new ship date or cancel your order.
Either way, we guarantee your card will never be charged until your order ships.