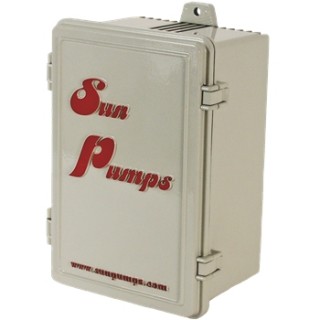 Sun Pumps PCC-120-BLS-M2S Solar Pump Controller
For Submersible Pumps Only, 1500W Max Power
---
Item #

3420-006
---
Sun Pumps PCC-120-BLS-M2S Solar Pump Controller, For Submersible Pumps Only, 1500W Max Power
Sun Pumps PCC-BLS series pump controllers are high quality, micro-processor controlled DC power converters designed as the interface between a sensorless brushless DC submersible pump motor and the solar array. The main purpose of a PCC-BLS series controller is for motor commutation, supply maximum power point tracking for the solar modules and provide protection for the controller.
The PC series controllers will boost the current of solar modules in low sunlight conditions while holding the voltage of the solar modules at the maximum power point. This allows a pump to start much earlier in the morning and stay running longer in the evening.
Sun Pumps PCC-BLS series pump controllers have many unique features designed specifically for water pumping. All PCC series controllers include a pump speed control circuit, a remote switch circuit, a sensor-less low water cut-off circuit, an electronic circuit breaker and indicator lights. The PCC series controllers also include an LCD screen that displays motor voltage, current, motor speed and power.
The controller is mounted in a high quality, powder coated, cast aluminum enclosure rated for outdoor use.
Shipping Weight: 11.00 lbs
Nominal Voltage Range: 75-120
Max Open Circuit Voltage: 200
Minimum Open Circuit Voltage: 90
Max Load Current: 12.5 Amps
Generally all of our products are in stock and ready to ship within 2 business days.
If an item you ordered is out of stock, we will contact you within 1 business day with an expected ship date. You will then have the option to accept the new ship date or cancel your order.
Either way, we guarantee your card will never be charged until your order ships.