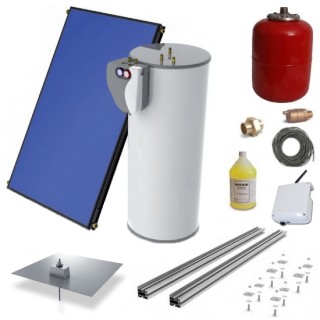 Heliodyne HPAS2-406GF65Z1 Solar Hot Water System Kit
1-2 People, 2 GOBI 406, Air Vent Kit, Racking w/ Quick Mount Flashing, 65 Gal Nat. Gas B/U Tank, Exp Tank, HPAS, Delta-T Pro Lite, Sensor Wire, Dyn-O-Flo
---
Item # 2330-010
---
Heliodyne HPAS2-406GF65Z1 Solar Hot Water System Kit, 1-2 People, 2 GOBI 406, Air Vent Kit, Racking w/ Quick Mount Flashing, 65 Gal Nat. Gas B/U Tank, Exp Tank, HPAS, Delta-T Pro Lite, Sensor Wire, Dyn-O-Flo
SINGLE TANK SOLUTIONS: INDIRECT WATER HEATING FOR COOL CLIMATE (CLOSED LOOP)
Indirect solar water heating is the most common solution for most installations in North America. This system utilizes a closed loop design which protects it from freezing and hard water issues. A special heat transfer fluid circulates through the collectors instead of water, allowing greater durability and trouble-free operation. Because the Helio-Pak has an external heat exchanger, a single tank SHW system is easy to configure and is more cost- and space-efficient when compared to a traditional dual tank or coil-in-tank closed loop system.
WORKS IN ANY HOME

When solar fluid in the collectors (1) is heated by the sun, it is pumped through the Helio-Pak (2), which then transfers that heat to water in your storage tank (3). The solar fluid then circulates back up to the collector where it again gets heated by the sun. This process continues automatically whenever the collector is exposed to sunlight. When there is little or no sun, a backup heating source self-activates to provide ample hot water for your home.
Features
Plug & Play installation
Can be used unconditionally in all areas
Closed loop design protects from freezing and hard water
Ideal for installations with limited equipment space
Helio-Pak allows for compatibility with nearly all tank manufacturers
Cost competitive with other closed loop systems
Flush mount installation for 3:12-20:12 pitched roofs
THE MOST RELIABLE COLLECTOR IN THE INDUSTRY

Heliodyne's GOBI solar collectors are proven to be among the industry's highest-performing. They also prove to be the most durable. This combination guarantees you many years of optimal performance. The quality and design put into every component ensures a sturdy collector that maximizes energy conversion from the sun. As a result, these collectors work exceptionally well, even in geographic regions with limited sunshine. Besides outstanding functionality, GOBI collectors are designed to be aesthetically pleasing, combining a sleek profile with a dark bronze frame.

Features

Low-profile tapered design for a subtle rooftop presence
Optimal heat absorption and overall efficiency
Certified to withstand 50lbs per square foot
Anodized aluminum frame improves durability & rigidity
No-solder connections with factory installed DYN-O-SEAL unions
Rated by SRCC and IAPMO as one of the industry's best-performing collectors
HELIO PASS HEAT-TRANSFER APPLIANCE

The Helio-Pass (HPAS) heat-transfer appliance is designed for use with coil-in-tank water heating systems. It serves as a closed loop system by circulating solar fluid from the collectors through a tank-integrated coil. Heat from the solar fluid inside the coil is transferred to the domestic water supply.

Features

Sleek modern design
Comes standard with Pro Lite controller
"Plug & Play" installation
Compact assembly
Works with all major coil-in-tank heat exchange brands
PRO LITE WEB MONITORING FUNCTION

Pro Lite controllers come standard with the ability to communicate via a web monitoring system which allows the installer or end user access to the solar hot water system controller from anywhere with an internet connection. By simply logging onto a dedicated website for the controller, the user can view and make system adjustments miles away from the actual solar hot water system. Pro Lite controllers carry all the basic functions of the Delta-T, but add energy performance monitoring capabilities. The Pro Lite controller comes pre-installed with software allowing the controller to record and monitor energy data for the life of the system.

 

System Requirements

DSL, cable or other broadband internet connection
Open, WPA or WPA2 network authentication/encryption Wi-Fi router (WEP not supported)
Internet browser (e.g. Firefox, Chrome, Safari)
Flow sensor installed for energy monitoring

Features

2 program configurations available (open loop DHW, closed loop DHW)
2 thermistor sensor and 2 pump relays
Remote web-based system monitoring and settings
Automated service reminders
Stored energy data (BTU, °F, GPM)
ATMOSPHERIC NATURAL GAS BACK UP TANK

When there is insufficient solar energy to be collected, a backup gas burner is activated to provide auxiliary heating.

Features

Designed for all installations
Glass lined tank - Protects tank from the corrosive effects of hot water
Electronic ignition - Eliminates constant burning pilot
Automatically controlled via the Heliodyne Delta-T
Brass drain valve
Factory-installed T&P relief valve
ENJOY THE BENEFITS OF SOLAR HOT WATER
Suitable for All Regions
Solar water heating systems can operate in any region, including areas with heavy snow or rain.
Affordable
Compared will all other alternative energy options, solar hot water is the most economical choice for your home's renewable energy needs.
Simple, Easy Installation and Long-Term Benefits
A Heliodyne system can be installed within 1 to 2 days for most homes.
Very little service or maintenance is required over the life of the system.
Once installed, the system is fully automated.
Federal & Local Incentives are Available
These will significantly reduce the cost of a new system. Find which incentives apply in your area at www.dsireusa.org
Added Value for Your Home
Adding a solar water heater to your home increases its resale value by at least the cost of the entire system.
Durable
Heliodyne systems can easily operate 20-25 years or more without needing any significant maintenance.
GOBI solar collectors are designed and built to withstand the harshest environments, even hail storms.
High Return on Your Investment
With government and utility incentive programs, a Heliodyne cool climate system will usually pay for itself within 4 - 8 years.
A Heliodyne solar hot water system will significantly reduce your water-heating bills by hundreds of dollars annually.
A solar hot water system will provide you with a hedge against rising energy costs.
Preserves Our Environment
Installing a solar hot water system in your home is a proactive step for combating global warming.
A Heliodyne solar hot water system greatly reduces your home's CO2 emissions by up to 30%. This helps to preserve our environment for many generations to come.
Each Cool Climate (Closed Loop) Kit Includes (For 1-2 People)
(2) 4'x6' GOBI Blue Sputter Flat Plate Collector
(2) Dyn-O-Seal Unions
(1) Air Vent Kit
Roof Racking and Hardware with Quick Mount flashing
(1) 65 Gallon Natural Gas Back Up Tank
(1) Expansion Tank
(1) Helio-Pass (HPAS) Heat Transfer Appliance
(1) Built-in Delta-T Pro Lite Controller for System Monitoring
(1) Coil Sensor Wire
(1) Dyn-O-Flo Heat Transfer Fluid
Generally all of our products are in stock and ready to ship within 2 business days.
If an item you ordered is out of stock, we will contact you within 1 business day with an expected ship date. You will then have the option to accept the new ship date or cancel your order.
Either way, we guarantee your card will never be charged until your order ships.