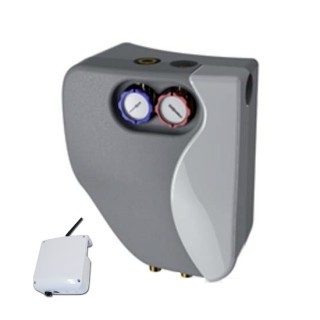 Heliodyne HPAS 048-011 Helio-Pass AC Pro Heat Transfer Appliance with Pro Control
Bottom Connect, For Up To 321 SF of GOBI Collector Area
---
Item # 2320-011
---
Heliodyne HPAS 048-011 Helio-Pass AC Pro Heat Transfer Appliance with Pro Control, Bottom Connect, For Up To 321 SF of GOBI Collector Area
HELIO PASS HEAT-TRANSFER APPLIANCE
The Helio-Pass (HPAS) heat-transfer appliance is designed for use with coil-in-tank water heating systems. It serves as a closed loop system by circulating solar fluid from the collectors through a tank-integrated coil. Heat from the solar fluid inside the coil is transferred to the domestic water supply.
Features
Sleek modern design
Comes standard with Pro Lite controller
"Plug & Play" installation
Compact assembly
Works with all major coil-in-tank heat exchange brands
DELTA-T PRO WEB MONITORING CONTROLLER UPGRADE
The Pro controller is the most advanced version of the Delta-T line of controllers. Pro units share the same advanced energy performance monitoring and data storage capabilities of the Pro Lite version, but add enhanced functionality. Additional relays and sensor input options make the Pro controller suitable for all types of solar water heating system applications. Pro controllers come standard with the ability to communicate via a web monitoring system which allows the installer or end user access to the solar hot water system controller from anywhere with an internet connection. By simply logging onto a dedicated website for the controller, the user can view and make system adjustments miles away from the actual solar hot water system.
Features
5 program configurations available (open loop DHW, closed loop DHW, Pool, Space heating, Commercial)
5 thermistor sensor and 3 pump relays
Waterproof version available for pool systems
System Requirements
DSL, cable or other broadband internet connection
Open, WPA or WPA2 network authentication/encryption Wi-Fi router (WEP not supported)
Internet browser (e.g. Firefox, Chrome, Safari)
Flow sensor installed for energy monitoring
The specifications document is loading.
Generally all of our products are in stock and ready to ship within 2 business days.
If an item you ordered is out of stock, we will contact you within 1 business day with an expected ship date. You will then have the option to accept the new ship date or cancel your order.
Either way, we guarantee your card will never be charged until your order ships.