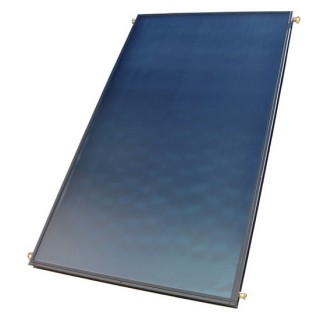 Heliodyne GOBI 410-001 Solar Hot Water Collector
4'x10', 2.8" Thick, Flat Plate, Blue Sputtered, High Selective Surface Absorber Coating, Standard Slim, Anodized Aluminum Frame-Dark Bronze
---
Item # 2310-003
---
Heliodyne GOBI 410-001 Solar Hot Water Collector, 4'x10', 2.8" Thick, Flat Plate, Blue Sputtered, High Selective Surface Absorber Coating, Standard Slim, Anodized Aluminum Frame-Dark Bronze
THE MOST RELIABLE COLLECTOR IN THE INDUSTRY
Heliodyne's GOBI solar collectors are proven to be among the industry's highest-performing. They also prove to be the most durable. This combination guarantees you many years of optimal performance. The quality and design put into every component ensures a sturdy collector that maximizes energy conversion from the sun. As a result, these collectors work exceptionally well, even in geographic regions with limited sunshine. Besides outstanding functionality, GOBI collectors are designed to be aesthetically pleasing, combining a sleek profile with a dark bronze frame.
The new GOBI has undergone a complete transformation for 2011 making it the industry's best flat plate collector. By redesigning the frame and incorporating state of the art components, the GOBI has a reduced profile and even better performance. With 3 sizes and 2 absorber surface types to choose from, there is a GOBI collector for every type of solar water heating application.
Thinnest Profile – The redesigned frame is easier to handle for installers and offers the end user a streamlined, sleek look on their roof compared to bulky traditional flat plate collectors.
Top 10 Performer – New SRCC ratings certify that the GOBI now ranks among the 10 best OG-100 collectors. The high energy output of the GOBI offers maximum performance out of the solar hot water system.
Easiest to Install – The GOBI retains its unique Dyn-O-Seal (DOS) union interconnection method. DOS unions come factory assembled and eliminate the time consuming task of soldering each collector together in an array.
New Design Features
1" reduction in frame thickness
Improved insulation
Full plate absorber
Rounded glazing profile
OG-100 certified with higher performance and efficiency
Additional Features
Low-profile tapered design for a subtle rooftop presence
Optimal heat absorption and overall efficiency
Certified to withstand 50lbs per square foot
Anodized aluminum frame improves durability & rigidity
No-solder connections with factory installed DYN-O-SEAL unions
Rated by SRCC and IAPMO as one of the industry's best-performing collectors
The specifications document is loading.
Generally all of our products are in stock and ready to ship within 2 business days.
If an item you ordered is out of stock, we will contact you within 1 business day with an expected ship date. You will then have the option to accept the new ship date or cancel your order.
Either way, we guarantee your card will never be charged until your order ships.