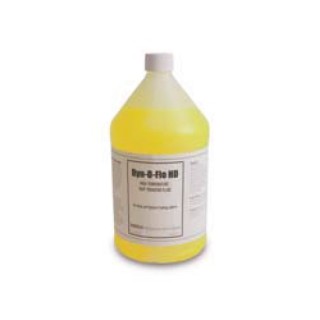 Heliodyne DFLO 004-004 Dyn-O-Flo HD Transfer Fluid Concentrate
High Temp, Non-Toxic, Inhibited Propylene Glycol, 4 Gallons
---
Item #

2350-004
---
Heliodyne DFLO 004-004 Dyn-O-Flo HD Transfer Fluid Concentrate, High Temp, Non-Toxic, Inhibited Propylene Glycol, 4 Gallons
Dyn-O-Flo HD propylene glycol is the recommended heat transfer liquid; the substitution of any other heat-transfer fluid can cause irreparable damage and/or create health and safety hazards. Glycol concentration should be 40 – 60% for proper inhibitor concentration, regardless of required freeze protection. A higher concentration than is required for freeze protection is recommended in case of errors in fluid calculation.  Use mineral spring water or good quality tap water and only fill system when collectors are cold.
Specific Gravity: 1.053 – 1.063
Propylene Glycol: 94%
Inhibitor Concentration by Weight: 6%, inhibitors and water
Dye: Bright yellow
Suspended Solids: substantially free
Reserve Alkalinity: 15 mL
Operating temperature range of -50 – 325 °F
Generally all of our products are in stock and ready to ship within 2 business days.
If an item you ordered is out of stock, we will contact you within 1 business day with an expected ship date. You will then have the option to accept the new ship date or cancel your order.
Either way, we guarantee your card will never be charged until your order ships.