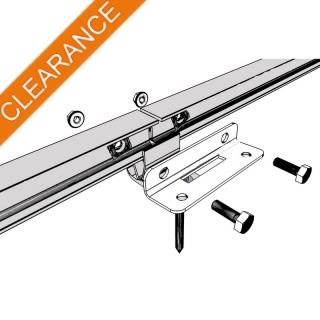 UniRac 003001S SM-I Splice Kit with Grounding
Clear, Qty. 1
---
Item # 1330-460
---
While Quantities Last - All Sales Final
UniRac 003001S SM-I Splice Kit with Grounding, Clear, Qty. 1
Install splices when splicing two beams at a connection. Place one additional splice to act as a retaining clip over a connection every 24 feet of beam. This may require field drilling.
SolarMount-I is designed to minimize the effects of thermal expansion by allowing the beams to expand and contract independently between connections and attachments. To minimize the effect of thermal expansion, restrict continuous beam lengths to 36 feet or three standard beam lengths.
Includes:
(1) Beam Splice
(2) WEEB 9.5 Grounding Washers
(2) Stainless steel hex bolt
(2) Stainless steel flange nut
PV mounting evolves
Engineered for flush mounting applications, SolarMount-I offers the one of the lowest total installed cost and best value in the industry. Building on the strength for peace of mind you've come to expect from Unirac, the SolarMount-I integrates an enhanced I-beam design supported by a comprehensive suite of online service and support.
With no drilling required and "click and secure" connections eliminating the need for nuts and bolts, the SolarMount-I gets installers off the roof in nearly half the time when compared to competitive products.
Key Benefits
Incomparable Value
Freedom and flexibility to accommodate majority of PV modules
Integral grounding options
Faster, Flexible Attachments
Installs in half the time of competitive products
"Click and secure" solution
Spanish barrel tile solution
Complete Technical Support
Installation documentation
Online specification tool and training vidoes
Installation instructions accessible from mobile devices.
Our Clearance Item inventory is sold while quantities last. Please contact us before order placement if you are concerned about item availability.
If an item you ordered is sold out, we will contact you within 1 business day with a possible alternate. Because the replacement item may be higher priced, you will have the option to accept the alternate, remove the alternate, or cancel your order entirely.
Either way, we guarantee your card will never be charged until your order ships.
All Clearance Item sales are final and cannot be returned.