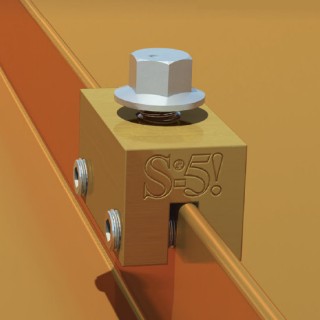 S-5! S-5-B Mini Brass Clamp
Size B, Mini, Brass Clamp with 8mm Bolt
---
Item # 1330-158
---
S-5! S-5-B Mini Brass Clamp, Size B, Mini, Brass Clamp with 8mm Bolt
The brass S-5-B Mini is designed to complement the beauty of your copper roofing and stay secured for the life of the roof.
Architects and roof designers choose copper roofing for its timeless elegance and durability. The S-5-B Mini ("B" for "Brass") allows architects to maintain that theme with all equipment and accessories that must be mounted to the roof with permanence and durability consistent with the roof itself. This clamp is specifically designed for double-folded copper standing seam paneling and batten profiles.
The S-5-E Mini is a medium-duty, non-penetrating seam clamp. (A bit shorter than the S-5-E and having one setscrew rather than two.) The Mini is the choice for attaching all kinds of rooftop accessories: signs, walkways, satellite dishes, antennas, rooftop lighting, lightning protection systems, solar arrays, exhaust stack bracing, conduit, condensate lines, mechanical equipment—just about anything!
The strength of the S-5-B Mini clamp is in its simple design. The patented setscrew will slightly dimple the metal seam material but will not puncture it. All included hardware is stainless steel.
Installation is as simple as placing the clamp on the seam and tightening the patented round-point setscrew to the specified tension. Then, affix ancillary items using the bolt provided.
Generally all of our products are in stock and ready to ship within 2 business days.
If an item you ordered is out of stock, we will contact you within 1 business day with an expected ship date. You will then have the option to accept the new ship date or cancel your order.
Either way, we guarantee your card will never be charged until your order ships.